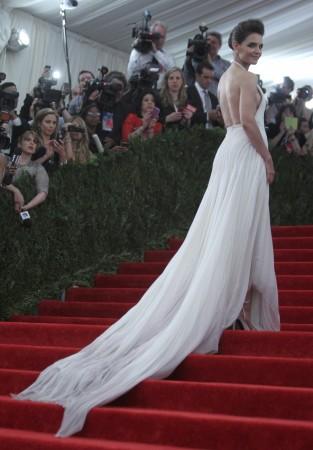 The question "Are Katie Holmes and Jamie Foxx dating?" has been brewing in the minds of many people for the past two years. Recent reports almost confirmed that the couple is an item and stated that Holmes dropped the L-word. But the actress' rep has trashed these reports, calling them "untrue."
According to Us Weekly celebrity news report, an eyewitness overheard Katie gushing over Jamie during a phone call. The source apparently claimed to have eavesdropped on Holmes talking to Foxx when her plane arrived at LAX.
The Ray Donovan star had just returned from attending the events surrounding the annual Met Gala held in New York on 4 May. "She called him the minute she got off her plane and said she loved him. She said she loved him. She always gushes about how amazing he is and the joy he bring into the world," the source claimed.
Rumours about Katie and Jamie have been doing the rounds since 2013, after the two were seen dancing together and getting close at a benefit party in East Hampton, NY.
But Holmes' rep told Gossip Cop that they were far from true.
In a statement, the rep dismissed the rumours, saying: "Katie is not dating anyone. She's not gushing about anyone. These stories are untrue."
The rep also let the latest fiction about the L-word fly out of the window and slammed the door on it effectively.
"She was on phone with her daughter when she supposedly was overheard saying 'I love you.' This gossip needs to stop."
Holmes split from Tom Cruise in June 2012 after five years of marriage and since then has kept her personal life low-key.