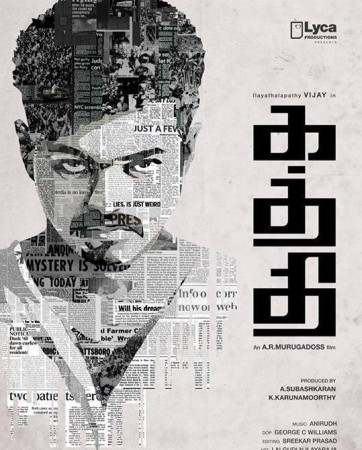 The audio of the upcoming Tamil film "Kaththi" is released. The film stars Vijay and Samantha Ruth Prabhu in the lead.
The audio launch held in Chennai was attended by many stars, including Vijay, Neil Nithin Mukhesh, Anirudh, Aishwarya Dhanush, Samantha, Madhan Karky and Hip Hop Tamizha among others.
"Kaththi" directed by Murugadoss is one of the most awaited films of the year. The music direction is done by Anirudh Ravichander and it looks like he has managed to win the hearts of critics and fans with the film's music.
There are seven songs penned by Hip Hop Thamizha, Madhan Karky, Pa. Vijay and Yugabharathi. The songs are sung by Anirudh, Hip Hop Thamizha, Shankar Mahadevan, Shwetha Mohan, Sunidhi Chauhan, Vijay, K. J. Yesudas and Vishal Dadlani.
Here are the reviews of "Kaththi" music by various critics
"Pakkam Vanthu", Singers: Anirudh Ravichander, 'Hip Hop Tamizha' Aadhi, Lyrics: Hip Hop Tamizha
"A hip-hop track which becomes addictive after few listens. An out and out party-mix track high on Aadhi's lyrics and Anirudh's love-filled singing. The folk breakdown and fastening of the rhythms towards the end are genre' justifying in this new pub anthem in making."- Behindwoods.com
"The album's first song is a loopy and trippy number by Hip Hop Thamizha Adi and Anirudh. It rap and melody interlaced with some trendy beats will surely get you addicted after a few listens. A sure shot Kollywood night pub anthem and a trademark Anirudh song" – Indian Express
"The album starts off with a great EDM material with Hiphop Tamizha Aadhi's rap portion & Anirudh follows him with the trippy verse 'Pakkam Vanthu Konjam Muththangal Thaa'. Anirudh triggers the first bullet by making use of a double barrel gun, and his partnership with Aadhi hits a hat-trick here. Both the interludes are designed to make the listener say, WOW! And, Anirudh's late entry in the second stanza to render 'Maname Maname' is a brilliant pit stop strategy in a high voltage Aadhi's F1 race-sque vocals." – Indiaglitz.com
"Paalam", Singers: Shankar Mahadevan, Shweta Mohan, Lyrics: Madhan Karky
"The majestic Shankar Mahadevan exemplifies the grandeur of the setting with his powerful voice dealing a carnatic-folk song here. Anu-pallavi of the song is just musical brilliance. Celebration and unity are symbolized with the joyful group singing and approach of the tune." Behindwoods.com
"Shankar Mahadevan's powerful and Shweta Mohan's soothing voices gives this carnatic-folk mix song a good feel. The track concludes on a typical 'gaana' note and clearly shows Anirudh is willing to experiment with genres." – Indian Express
"An experimental track from the composer as he tries to serve three different flavours within 5.5 minutes. Shankar Mahadevan makes a comeback to Tamil cinema after a brief hiatus and shoulders this tune to give the much needed push. Shweta Mohan sounds authentic in the traditional Carnatic while the chorus portion with kids is likeable. The song ends on a high note with the typical 'gaana' rhythm only to leave the listener to think for a while on what genre this track belongs to." – Indiaglitz.com
Kaththi Theme – The Sword of Destiny
"Urumi melam is the soul of Kaththi theme. A quintessentially mastered electronic track majorly headed by programmed Santoor, synth effects and some Bagpipers. With the sounds of swords clashing and guns clocking, Kaththi theme is tailor made for Vijay with all the huffs and puffs." Behindwoods.com
"The theme starts off with a clash of swords and sound of bullets being fired. The use of the urumi melam and some heavy electronic sounds make this theme a perfect fit for Vijay. It is already the most downloaded ringtone and caller tune by the Chennai" - Indianexpress.com
"All of us have heard this one already with the motion picture of 'Kaththi' and Anirudh has added a bit of humming at the end of the theme. What starts off like a heavy clash of two swords goes on to burst out with a splashing bullet sound in the midway. One cannot imagine the swag level of Vijay with this theme track on the screen. The theme track has already become a ringtone of many and it is time to be the caller tune!"- Indiaglitz.com
"Selfie Pulla", Singers: Sunidhi Chauhan, Vijay, Lyrics: Madhan Karky
"The super singer Vijay is at his best possible form. A potential blockbuster substantiated by programmed shehnai, foot-tapping rhythms and guitars on full distortion. The most beguiling song of the year is ready." - Behindwoods.com
"A song by Vijay seems to be a must in all his recent movies, Google-Google in 'Thuppakki', Vangana Vanakamgana in 'Thalaivaa' and Yeppa Mama Treatu and Kanthangi in 'Jilla'. The song is by far the most expected one by fans and Vijay doesn't disappoint. Trendy lyrics from Madhan Karky, addictive guitars by Keba really carry the song. 'Selfie Pulla' is certainly a number that even kids will be humming." – Indian Express
"Vijay's sensational form as a singer continues on this album too, as he effortlessly crooned a fascinating romantic kuthu with Sunidhi. Anirudh's sagacious sound arrangements with fierce guitar portions and shutter sounds are captivating. The 30 second long prelude consists of guitars and drums are addictive, and Vijay takes off like a well oiled engine from the very first second to deliver an impressive track."– Indiaglitz.com
Bad Eyes - Villain Theme

"Using the water splashes to set the rhythm of the track is totally unique and experimental. Thathkaaram on the Flute, scintillating Sitar fills and bhols fused with electronic beats give a whole new feel to this instrumental piece." - Behindwoods.com
"Primarily using the sitar and flute Anirudh has made this villain theme truly bad ass. The silent interludes give a sort of spooky feel to the track and will definitely accentuate and complement the bad guy." –Indian Express
"Is it possible to induce a dark mood with the usages of flute and sitar? Yes, says Anirudh, and he confidently pulls off another coruscating theme track. The stupendous sound engineering is evident and the idea to use as many as instruments to keep up the mood is laudable." – Indiaglitz.com
"Nee Yaaro", Singers: KJ Yesudas, Lyrics: Pa. Vijay
"How blessed is this generation to still have access to the golden voice? Yesudas renders a soulful pathos song with so much emotion. This one is bound to linger in our ears for a long time, if the visuals are matched. Guitars establishing the ragam right at the start of the song shows Anirudh's maturity. Mild Kanjira strokes and mellifluous flute in-between are levitating. The composition also exposes the melancholic side of the delightful carnatic raaga Shankarabharanam at places." – Behindwoods.com
"They lyrics are just praises of the hero but the singer makes this song what it is. Veteran K J Yesudas gives it a truly magical touch to this otherwise average song. It seems be a touching emotional number and one will have to see its effect only with visuals in the movie." – Indian Express
"A simple hero worshipping number, but, it sounds soothing because of Yesudas and the mild composition which lets the lyrics take over. The first interlude which extends close to half a minute is poisonous, and the way Yesudas picks up from there is magical. It is hard to believe this legend is on his job for more than 5 decades and still sounds the way he started his journey." – Indiaglitz.com
"Aathi", Singers: Anirudh, Vishal Dadlani, Lyrics: Yugabharathi
"Open stringed guitars welcome us to this catchy R n B song with Vishal Dadlani's crispy voice placed on a groovy rhythm. Interludes and the rap portion going along the rhyme scheme are typical Anirudh killers. The composer proves yet again that he is blessed with the ability to identify the pulling factor of a simple tune and use it to the fullest." – Behind woods
"Vishal Dadlani and Anirudh bring rock, melody and a bit of R n B together with Keba's catchy guitars in this number. Another trademark Anirudh track, this one will perhaps be a long term chart topper after the Selfie-Pulla fever dies out." – Indian Express
"The Ra. One composer has come back to sing once again for Anirudh. The duo did deliver a fantastic song in 'Vanakkam Chennai'. The composer wanted to derive one more from Hip Hop Aadhi, and cleverly used his rap portions with Vishal's vibrant vocals. Anirudh has let his imagination run over with blazing electric guitars and orchestrated a gangster style romantic number. The highlight of the track is; the rap portions of Aadhi which is well connected to the theme of 'Sword of Destiny' and no wonder it will be played on a loop on all the music players." - Indiaglitz