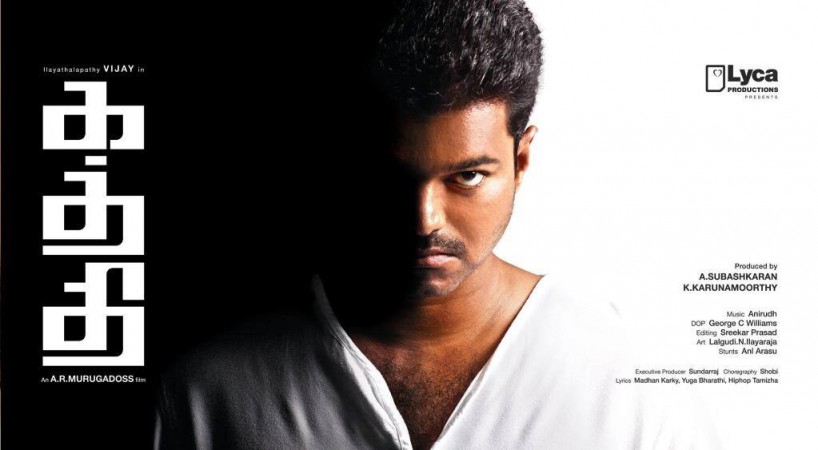 Ilyathalapathy Vijay has issued a press statement regarding "Kaththi" issue in which he has confirmed that the makers of the film have agreed to remove Lyca's name and logo from the film's advertisements.
The actor has also stated that the issue has been amicably settled. He also thanked Puraitchi Thalaivi Amma (Jayalalithaa), Tamil Nadu police department and Tamil Nadu theatre owners association for showing their support in the smooth release of "Kaththi." Vijay also thanked the producers for respecting Tamil group's feelings and obliging to remove Lyca's name from the ads.
Ilyalathalapathy has also appealed to his fans to watch the film in theatres and also conveyed his Diwali wishes to all. Check below the official press statement in Tamil.
— vijay (@Vijay_cjv) October 21, 2014
For the last few months, "Kaththi" was facing issues as some Tamil outfits had protested against the film's release alleging that the film's producers – Lyca – are linked to Sri Lankan President Mahinda Rajapaksa.
Despite the makers clarifying that they did not have any business links with the Sri Lankan president, the issue still persisted.
On Monday (20 October), Karunamoorthy of Ayngaran International (co-producers of "Kaththi"), TN theatre owners association and distributors held a meeting to discuss about the issue. Following the meeting, an official statement was released confirming that the issue surrounding "Kaththi" has been resolved and the film will be released on 22 October as a Diwali treat for the fans.
However, a few violent incidents happened wherein Sathyam Cinemas and Woodlands theatre in Chennai were targeted by hooligans after "Kaththi" release was confirmed. Sathyam Cinemas has now returned to normalcy, according to entertainment industry tracker Sreedhar Pillai.
#SathyamCinemas is back 2 normal, the show goes on. The cowardly attack on the theatre has been universally condemned. — Sreedhar Pillai (@sri50) October 21, 2014
Following the attack on theatres, "Kaththi" release was again doubtful. After Vijay released the latest official statement, the film is expected to release in Tamil Nadu on Wednesday as per the schedule.