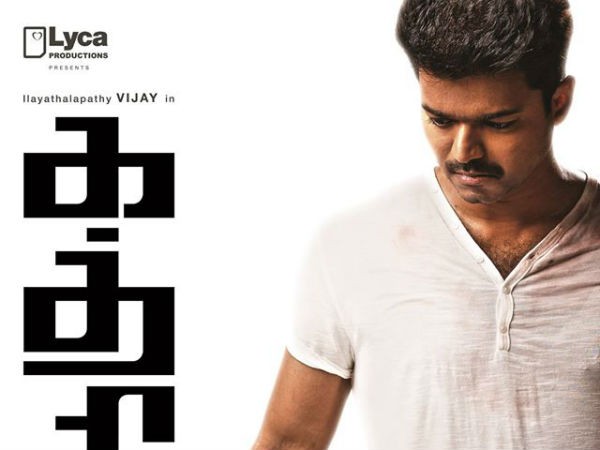 The advance booking for Tamil movie 'Kaththi' has kick-started with a bang. The fans of Ilayathalapathy Vijay have gone crazy over the development and are giving stupendous response to the pre-booking of the movie tickets. On the other end, the stage is set for release of a song teaser of the film.
On Wednesday, 15 October, some theatres in Tamil Nadu opened up the counters to sell the tickets of 'Kaththi' for the opening day. A few theatres in Tirunelvelli and other regions have started the advance booking and the response has been really good.
As of now, the theatres have opened booking for the first day and the booking for the entire week might start from Friday, 17 October. In Chennai and other parts of the state, the pre-booking for 'Kaththi' will start from the coming weekend.
Demand Like Never Before
The hype over 'Kaththi' has reached sky high as there is a huge craze around the movie. The five-day festive weekend will boost the sales of the ticket like never before, says a trade tracker. The theatre owners are now forced to increase the number of shows to meet the demand. While single screens will start early shows, multiplexes will increase their screen counts to cash in on the occasion.
Protests Against "Kaththi is Politically Motivated?
Government's Special Permit for Early Shows
The theatres have reportedly got the state government's permission to start early shows. As it is the festive season, the government has approved the Tamil Nadu Theatre Owners Association's request to increase the shows. Both the Diwali releases ("Kaththi" & "Poojai") will benefit from it.
Festive Release Comes as Boon to Multiplexes
The occasion comes as a big boon for multiplexes. Without any restrictions, they can have any number of shows of 'Kaththi' and other movies. To meet the demand, they are going to increase the show. And some multiplexes are likely to dedicate their entire screens to the Vijay's film on the release and the following days.
Records Number of Shows In Chennai
In Chennai alone, Kaththi' will register a record number of shows. The count might easily cross 600, which by any margin, is good.
Song Teaser Releasing Today
Meanwhile, a song teaser of "Kaththi" will be released today (16 October). And the trailer of the film will be released a day or two before the official release of the Tamil movie.