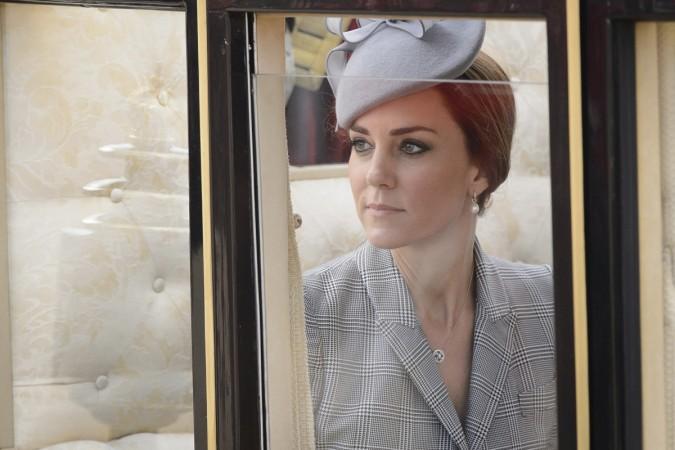 Kate Middleton is reportedly too skinny and this apparently worries Queen Elizabeth. The buzz has it that when British Monarch honoured Angelina Jolie with the Dame award for her humanitarian work, she was shocked to see her thin frame, making her anxious about Middleton.
Queen Elizabeth thought Jolie was too thin and she was worried if Kate Middleton too would become loike the singer, according to a report by Celebrity Laundry.
Kate Middleton has reportedly lost weight after she got pregnant with her second child. She suffered from extreme morning sickness (hyperemesis gravidarum) for a few weeks into the first three months of her pregnancy, which played havoc on her weight.
It is not known whether Middleton is currently following any weight loss plan but she was seen flaunting her svelte figure at a recent Charity Dinner.
However, the Queen was reportedly worried of Middleton's health on seeing the skeletal figure of the "Tomb Raider" actress.
"Angelina looked so skinny she stunned palace observers, even the Queen expressed surprise. She remarked that Angelina needed some traditional British food like roast beef and Yorkshire pudding to put some meat on her bones. I'm surprised she didn't suggest chocolate cake, that's the Majesty's weak spot," an insider told the Globe magazine, according to Celebrity Laundry.
Jolie has been living off "ancient grains," according to a report by Marie Claire and this is probably the reason why she has a stick-thin figure. Brad Pitt's wife reportedly follows a strict fitness regime and feeds on mixture of quinoa, millet, chia seeds, spelt and buckwheat, thinking that they have huge health benefits. The actress also reportedly starts her day with a spoonful of coconut oil and a handful of cereals.
It may be recalled that the Dutchess of Cambridge, who is known for keeping her weight on a check, religiously followed Dukan's diet days ahead of her wedding to Prince William, according to a report by Daily News.
"I think she lost too much," said Pierre Dukan, the creator of Dukan's diet to Daily News, adding, "At the beginning she had good cheeks. Now, she has no cheeks."