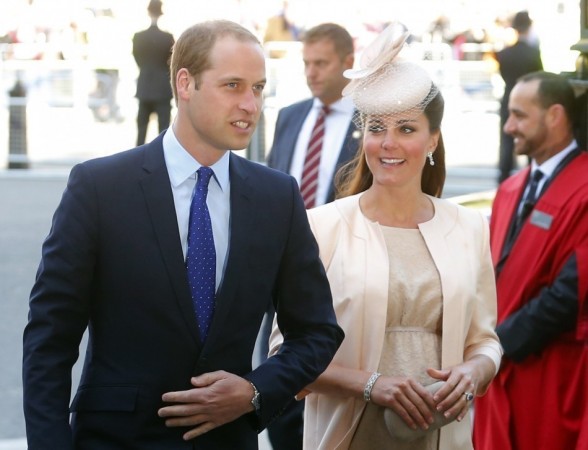 In what could come as an embarrassment for the British royal family, a photo of Kate Middleton that exposes her bare butt has been published. The Duchess of Cambridge suffered wardrobe malfunction during her Royal Tour to Australia in April.
German newspaper, Bild.de has published a photo of Kate Middleton that has her dress being blown up by a gust of wind and ended up revealing her bare butt while walking towards a helicopter with her husband Prince William.
"Photos show our favorite Duchess Kate, 32, in the Australian Blue Mountains. The rotor blades of the royal helicopter swirl the air blowing Kate's summer up - giving a clear view of her beautiful bum!" wrote the paper describing the picture.
As if that's not enough, Kate's photo is placed next to the ones showing the butts of Kim and Khloe Kardashian with the caption: "Khloe, Kim Kardashian and Kate Middleton: back sides that move us these days!"
The picture of the Duchess of Cambridge was sold to a publication house overseas a frantic bidding war after British media houses refused to publish it, according to Page Six. The royal family, which is usually against publication of photos with bad taste, is yet to respond to the new development.
It may be mentioned that this is not the first time Kate's dress has been blown up. She suffered similar wardrobe malfunction during her recent Royal Tour of New Zealand. Her red dress was blown right up while deboarding a plane holding her son, revealing her thighs. She faced similar incident in 2011 at the Calgary International Airport, revealing her panties after a gust of wind blew her beautiful yellow dress up. In yet another "Marilyn Monroe moment", her skirt was sent skyward while attending a charity event in London last year, exposing more skin than she would probably wanted to.
The celebrated royal couple - Prince William and Kate Middleton - had earlier caught in an embarrassing situation after topless of the Duchess made it to the print. The pictures of the couple sunbathing semi-nude at a private estate in France was first published by "Closer" magazine before others like "Daily Star" and "Chi" followed suit.
William reportedly filed a complaint against the photographer who is still at large, saying that the Middleton photos were "grotesque and totally unjustified invasion of their privacy."
The royal family filed a complaint against the photographer arguing that the photos of the Duchess of Cambridge are "grotesque and totally unjustified invasion of their privacy."