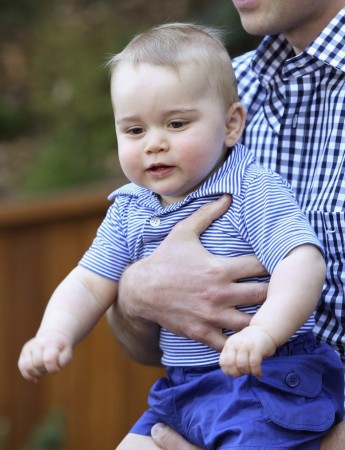 Kate Middleton and Prince William had sleepless nights when Prince George was born.
The royal baby who would be turning one on 22 July stayed up crying all night when he was brought home from the hospital. The couple suggested to the recent issue of Vanity Fair that the two-bedroom apartment just outside their palace was the last resort they should have taken when they brought the baby home. Apparently, there was no air conditioning in the room and the newborn cried the whole night.
"It was William, with sleeves rolled up, who took the wheel of the family's Range Rover and drove his wife and newborn son home to Kensington Palace," read the August 2014 issue of Vanity Fair magazine.
It is also understood that being a duchess, Middleton did not get any special treatment and she was awake till the morning to take care of George.
"George was up so much they could barely have a conversation," a source told the magazine.
However, things were not that hectic for Kate as she had her mother Carole Middleton around to take care of the baby. She helped Kate with feeding and cleaning, as per the reports.
Kate and William, who want to give a normal life to George, took him to play date with their friends' kids, as per the reports.
Meanwhile, rumors are doing the rounds that the royal couple is planning to have baby number two.
"As for speculation about when Prince George will have a sibling, [Katie] Nicholl reports that there are rumors among the couple's friends that they plan to try this summer," the article in the magazine further read.
It was previously rumored that Kate is pregnant with twin girls. "Kate has always wanted a daughter, and she's talked about it so much that William did, too," Hollywood life qoutes a royal insider.
"Kate's upbringing with Pippa [Middleton] was idyllic and she always wanted to have girls of her own to carry on the legacy of strong, happy women. Plus, she thinks George having sisters will be tremendously good for his character," the source had further said.
But nothing was confirmed regarding the matter. Moreover, what added more to the speculation of Kate's pregnancy was her sister Pippa Middleton's alleged revelation at the recently concluded Matt Lauer show.
Pippa was reportedly telling a few people behind the sets of the show that Kate is pregnant and George will soon be getting a sibling, reported Celebdirty Laundry.