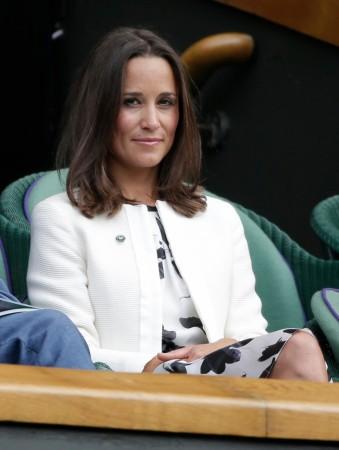 Kate Middleton's younger sister Pippa Middleton is in news again but not for her bikini outing. This time, she has hit the headlines for earning big from her new journalism career.
Pippa Middleton, 31, who writes column for several publication houses, earned a whopping £250,000 last year from her business and journalism career, according to a report by Daily Express. It added that the company, PXM Enterprises where she is the director, has an asset of £229,241 and is listed on Companies House as being: "Other publishing activities."
According to the report by the website, documents have revealed that Pippa's business was left with a profit of £115,192 after paying creditors around £115,000 and that she has even hired accountants OJK Ltd to take care of her financial matters.
The 31-year-old writes column for Waitrose Kitchen magazine, Vanity Fair and a newspaper besides editing her parents' web magazine Party Times.
Pippa Middleton was in news last month after being spotted in a bikini during a family vacation at the small private island of Mustique for Carole Middleton's 60th birthday celebrations. She was seen in a blue two-piece bikini with her brother James Middleton while Kate, who is currently pregnant with her second child, was taking a stroll with her son Prince George, according to NY Daily News.
It may be mentioned that Pippa shot to limelight after being spotted at her sister Kate's wedding to Prince Williams a few years. She has a figure that many women would envy but claimed that she doesn't work out regularly.
"I've never done Dukan, attempted Atkins, or exercised religiously seven days a week, but I do believe in making healthy choices — keeping refined carbs such as white bread and pasta to a minimum, and sticking to sensible portion sizes," she wrote in a column for a British magazine as reported by Inquisitr.