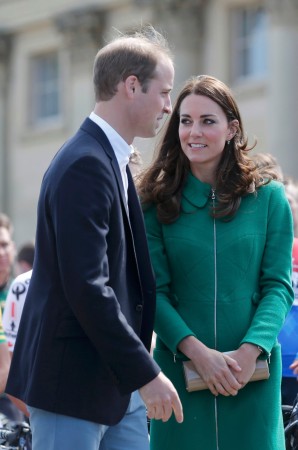 Kate Middleton's pregnancy rumors have been buzzing around for months, and it gained momentum recently when her longtime friend, Jessica Hay, confirmed the news of Prince George expecting a sibling.
The media scrutiny of her recent pictures shows that Middleton has been trying to hide her tummy region by wearing loose-fitting clothes, which has only aided pregnancy rumors.
For instance, during the ceremonial start of the Tour de France, Middleton was spotted wearing a long-sleeved, zipped-up dress even though the weather was hot and humid, reported E!News. Photographs from the event show Middleton using a clutch to hide her stomach region, and many reports speculate that she was trying to conceal her growing bump.
Interestingly, this is not the first time Middleton has been using accessories to hide her tummy region from the world media's glare.
Another point supporting pregnancy rumors is Middleton's royal duty to bear a spare heir. The E!News report claims that this would be the right time for Middleton and Prince William to welcome another baby as Prince George is turning a year old on July 22, and would only be happy to have a sibling to play with.
The toddler has already proved that he gets along with children younger to him during his various play dates.
Hinting that Middleton is expecting her second child, her childhood friend Hay said in an earlier interview that "Kate's face is fuller like it was when she was first expecting George and she's been changing her hair, which could be to disguise the fullness."
"She has rosy cheeks, she's letting her greys show again, and whenever she's out in public she goes to great lengths to hold something over her tummy…" Hay told Australia's New Day, according to The Hollywood Gossip.
Hay also said that she is not alone in thinking that Middleton is pregnant with her second child.
"Kate's inner circle are buzzing with the news that she is expecting," Hay told the publication. "I've heard it from several different friends of theirs now and they're saying that they think there's going to be an official announcement in weeks."
Kensington Palace is yet to make an announcement regarding Middleton's alleged pregnancy and reports indicate that the royal couple will announce the news after Prince George's birthday.
Reportedly, they do not want to overshadow their first-born's birthday celebration with the announcement of yet another pregnancy.
But bookmakers Coral believe that the royals will have a double celebration on Tuesday.
"With Prince George's first birthday just around the corner, the latest gamble strongly indicates that he could soon be joined by a little brother or sister," commented Coral's Nicola McGeady, according to Daily Mail.
"In fact, there could even be double celebrations in the Windsor household next Tuesday."