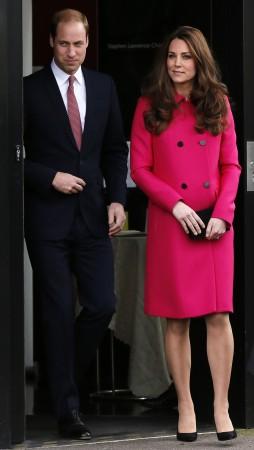 St. Mary's Hospital in London has offered 10% 'loyalty' discount to Kate Middleton because she has chosen the hospital to deliver her second baby who is due any time this month.
The Duchess of Cambridge will give birth to her second baby in the Lindo Wing of St Mary's Hospital, the same place where she gave birth to Prince George. So the hospital has decided to give a discount on the huge fees, which private hospitals usually give for returning mothers, according to Daily Mail.
Prince George was born on 22 July, 2013 and since then, prices for the suite at the hospital have shot up. A suite of two rooms now costs £6,570 for a one-night stay with normal delivery. For Middleton, it will be £5,913 after the discount, plus consultation fees of about £6,000.
So, even if it is normal delivery, it will cost around £12,000 to £13,000; it could go up, depending on medical equipment that may be required during the surgery. If the Duchess wants to stay for an additional night, it will cost her £2,300 extra.
There is also a contingency plan set aside for the 33-year-old royal lady. If complications arise, the Royal Berkshire Hospital and staff at Addenbrooke's Hospital in Cambridge have been prepared to take care of her.
Everyone is waiting to catch the first glimpse of the royal Prince or Princess, though sources say it is most likely going to be a Princess. Rumours gained ground as the DailyMail reported that the Duchess was shopping for pink baby clothes and that the royal couple had also asked for paint samples in Lilac and Pink shades for the new baby's nursery.
After Middleton delivers her second child, the family of four is reported to take off for Anmer Hall, their country home in Norfolk, England to "fully enjoy the bonding experience" with both their children .