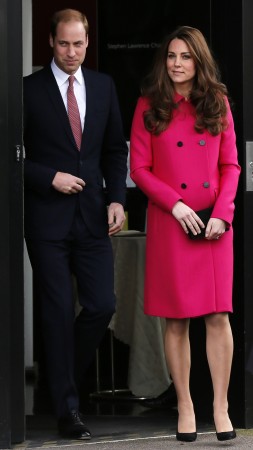 With less than a month left for Prince William and Kate Middleton to welcome their second child, speculations are gathering pace on the Duchess of Cambridge's pregnancy's due date. The latest one hints she will give birth to the baby on 25 April.
Even as the royal family remains tight-lipped about the date, a source close to the couple has spilled the details and claimed that an excited Kate revealed to members of the public her second child would arrive somewhere between mid and late April.
"The Prince and Kate have been told to expect their child to arrive on April 25", the source told Mail Online.
The due date is said to have been revealed during the couple's final public appearance in London before welcoming their second child. The Duke and Duchess visited youth charity in South London and interacted with members of the public about the royal baby.

Meanwhile, the royal couple seems excited to welcome a baby girl, as Claudia French, a mother of 18-month-old baby girl, stated that Prince William was asking about her daughter.
"William was asking me if Lily was the same age as Prince George and I said she was. He was asking me if she was walking yet. We were talking about him becoming a father again and he said 'The first time is a learning experience, the second time is a game-changer'," said the 40-year-old.
Since Prince George was born at St Mary's Hospital in London, the couple are expected to choose the same maternity suite for their second child.