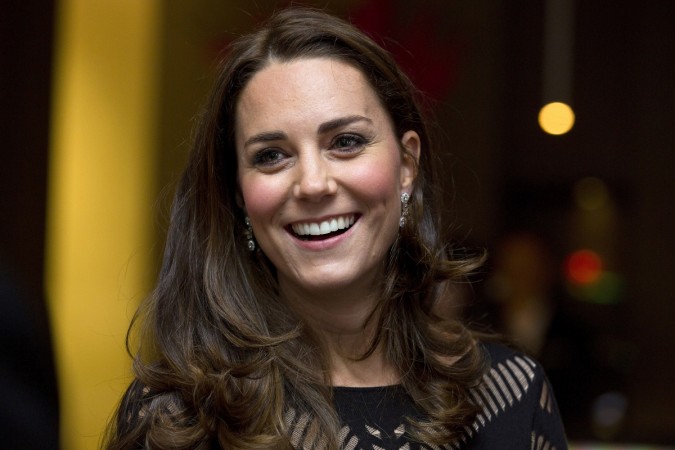 Kate Middleton made two appearances last week. On Saturday, she was seen attending the 50th anniversary of Valero Pembroke Refinery and on Sunday she attended Remembrance Day celebrations with Prince William. On both the occasions, the Duchess wore black and blue ensembles, thus leading to speculations that she is carrying a baby boy.
For her oil refinery appearance, the Duchess wore a Matthew Williamson pale blue overcoat with black stockings and black boots, while for Remembrance Day, she wore a black coat and a black hat, topped with a poppy broach, as a way to symbolise poppy fields where World War 1 soldiers laid their life.
Since Middleton has started making public appearances, she has mostly been wearing black and blue ensembles, which is said to be a result of her maternal instincts.
"Since the palace announced that Kate was pregnant with baby number two, she has been wearing quite a bit of blue. Some say this is a sign that Kate and William are having another boy," reads a report from Inquisitr.
It has also been reported that the Duchess might not know the sex of next royal baby. Middleton had a healthy glow on her skin as she attended the event. While she has been suffering from severe morning sickness since the onset of her pregnancy, her condition seems to have improved now.
Middleton and Prince William will welcome their second child in April 2015. Apart from the sex of their child, there is a major buzz regarding the royal baby's name. Rumours are rife that the baby might be named James if it's a boy, and the royal couple is likely to name the baby after late Princess Diana if it's a girl.
The royal couple is already parents to one-year-old Prince George and the family recently took a trip to Balmoral, Scotland.
"William wanted to take Kate away for a break after her [rough past couple of months]," a source revealed to US Weekly about the vacation, adding, "They both love the outdoors and the weather isn't too cold yet, so it's the perfect time to take a trip."
The royal couple will next be seen at the Royal Variety Gala on 13 November.