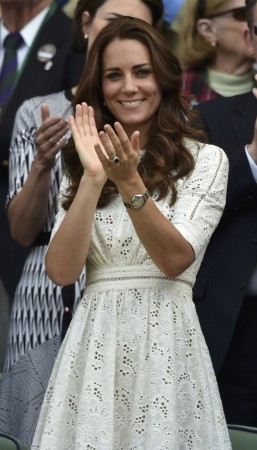 Kate Middleton, who is pregnant with her second child, seems to be still suffering from Hyperemesis Gravidarum. It is reported that the Duchess of Cambridge is still not fit to attend any royal engagements.
According to Mail Online, Middleton who was treated by doctors at Kensington palace till recently,has moved to her family home in Bucklebury, Berkshire, with her son, Prince George. it added that she is "struggling terribly" with encumbering antenatal sickness and her mother Carole has decided to take care of her and has even looked for other cures that can help relieve her daughter's condition.
Middleton, who is around 10 weeks pregnant with her second child, suffered from the similar condition during her first pregnancy with Prince George.
It is also reported that Middleton may not be there to greet the president of Singapore at an official visit on 21 October.
"Her attendance will be reviewed closer to the time, depending on her health," the source told the Website. "Don't be fooled by the fact that she hasn't been admitted to hospital this time. She is just as poorly. The difference is that her doctors have been able to diagnose and treat her quicker. She really hasn't been at all well, though."
The Duchess has already cancelled many appointments in past. She cancelled her much-anticipated solo visit to Malta because of her health issue, and her husband Prince William took her place. Her last official engagement was on 5 August where she inaugurated poppy installation at the Tower of London.
It may be mentioned that Hyperemesis Gravidarum is a severe condition and very few women suffer from it. "'Hyperemesis Gravidarum is not morning sickness. It is a chronic and debilitating condition that can cause sufferers to vomit up to 30 times a day," Caitlin Dean of the charity Pregnancy Sickness Support told the website.