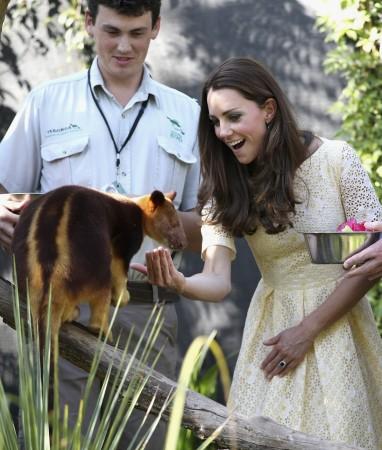 The news of Kate Middleton's second pregnancy is reportedly confirmed. The Clarence house made the announcement of the Duchess of Cambridge's pregnancy on Twitter. Apparently, the royal family is delighted with the news of the second child.
Interestingly, Twittirati went ablaze with funny reactions as soon as news of Middleton's pregnancy was annouced. Many said that Middleton's second pregnancy would give them one more reason to enjoy a public holiday while others said royals are pretty quick in making babies.
Here are some funny tweets.
*Kate Middleton's Pregnant* "Does this mean we get another bank holiday in 9 months?"
— British Logic (@BritishLogic) September 8, 2014
Kate Middleton is pregnant again. That was fast! The royals spend their time most productively it must be said. — Naomi Datta (@nowme_datta) September 8, 2014
Kate Middleton is pregnant again. If she doesn't call the baby Paul, John, or Ringo, she's missing a trick.
— James Martin (@Pundamentalism) September 8, 2014
Congratulations to Prince William and Kate Middleton who have announced she's pregnant with their second Half-Blood Prince. #RoyalBaby

— The Boy Who Lived ϟ (@HalfBloodTweet) September 8, 2014
If Kate Middleton is pregnant, I'm going to hide her on Facebook just like everyone else. — Libby Hill (@midwestspitfire) September 8, 2014
Meanwhile, it is speculated that Middleton is eight weeks due and the palace had to make an announcement about her pregnancy, as she had to be pulled out of an event due to acute morning sickness.
Currently, the doctors at Kensington are treating Middleton for acute morning sickness and she would be unable to attend public events in the future.
"She is at home being looked after by the surgeon gynaecologist to the Queen, Alan Farthing, and the surgeon gynaecologist to the royal household, Guy Thorpe-Beeston," said a palace spokeswoman, according to The Gaurdian.
Middleton was supposed to visit Malta this month but considering her medical condition, it is being said that the much-awaited Malta trip of the Duchess of Cambridge could be cancelled.
There has been immense speculation regarding Middleton's pregnancy for months now. Some reports even claimed that she is pregnant with a baby girl. It was also rumoured that Middleton suffered from a miscarriage but none of these rumours were confirmed.
Middleton and Prince William recently celebrated the first birthday of Prince George and now it seems they would be getting busy decorating the nursery for their second child.