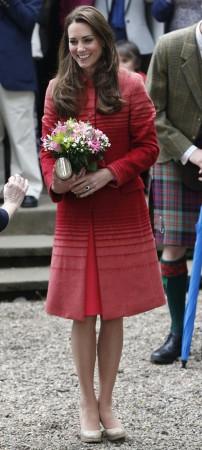 When Kate Middleton gave birth to Prince George last year, the world media gave a rest to the topless photo scandal that had dogged the Duchess for a while. And now, with the bare butt photo continuing to grab headlines, a pregnancy is the best option to diffuse some of the excitement concentrated on the picture.
This might be one of the reasons why there has been an increase in the frequency of rumors surrounding Middleton's pregnancy, and a Celeb Dirty Laundry report indicates that it might all be the brains of her public relations team.
Reportedly, the Duchess' PR team feels that the only way to draw attention away from the bare butt scandal is by spreading rumors indicating that Middleton is pregnant.
Off late, there has been reports stating that the royal couple is expecting their second child, and some publications have even predicted that Prince George might be getting twin girls as siblings.
"Kate has always wanted a daughter, and she's talked about it so much that William did too," an insider told OK! magazine. "Kate's upbringing with Pippa [Middleton] was idyllic and she always wanted to have girls of her own to carry on the legacy of strong, happy women. Plus, she thinks George having sisters will be tremendously good for his character."
Meanwhile, the Celeb Dirty Laundry report also noted that people close to Middleton wants the media to stop obsessing over her "exhibitionist ways," especially after many columnists advised the Duchess to be more modest in her dressing while in public.
This embarrassing incident has prompted the royal couple to employ a "bum" guard, the Daily Star reported.
The female "minder" will accompany Middleton whenever she ventures out so that photographers do not get an opportunity to snap indecent pictures of the Duchess.
A source explained: "Kate will now be watched all the time. We can't afford any more embarrassing photos like this. The poor girl was snapped topless in France while on holiday and now someone has got a photo of her bottom. She needs more protection to spare her blushes."