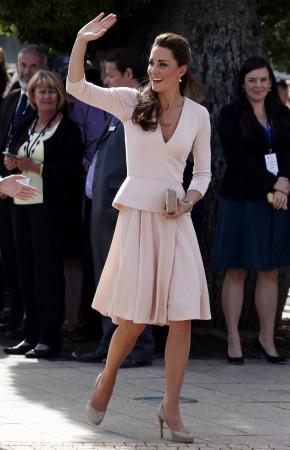 Kate Middleton is looking forward to welcome her second royal baby in March. However, it is still not known whether she is expecting a boy or a girl.
Recently, Middleton gave a hint, when she stepped out wearing a baby blue coat during her visit to Kensington Aldridge Academy on 19 January. The Duchess looked charming in a pale blue Seraphine coat, which led to speculation that she is expecting another prince, according to Huffington Post Canada.
The coat featured faux pockets and gathers. Middleton coupled her attire with a matching blue clutch and wore her hair loose. She accessorised her look with a pair of diamond earrings and a sapphire blue ring. Interestingly, this is not the first time that the Duchess has worn blue colour since getting pregnant with her second child.
Just last month, she was spotted in blue Jenny Packham dress. She paraded the beautiful blue gown at the St. Andrew's Gala in New York. She also wore Alexander baby blue coat several times in 2014. The Duchess has seldom worn any bright colour in the last six months and has been mostly spotted in black, greys and blue.
Though, based on her dressing choices some may think that she is carrying a baby boy, it should be known that during her pregnancy with Prince George she mostly wore bright colours, including pinks, reds and yellow, according to the website.
Middleton has yet not revealed anything about the gender of her baby, although the bets on the baby name are already being placed. The popular name for a baby girl is Diana, while for a baby boy it is James. The other popular names include Elizabeth, Arthur and Victoria.
"The royal baby betting frenzy is back in full swing. With one correct gamble already in the bag, punters are quickly reinvesting their winnings on the couple having a second son called James," revealed Jessica Bridge of U.K. bookmakers firm Ladbrokes to Eonline.