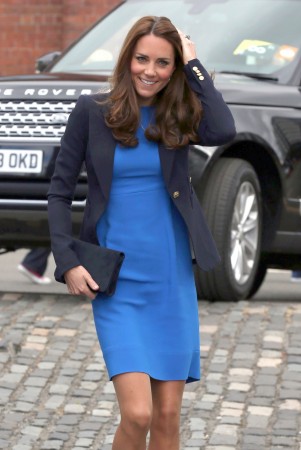 Is Camilla Parker Bowles upset with Kate Middleton's decision to bow out of Malta trip? Report has it that Bowles thinks the Duchess of Cambridge's morning sickness is not serious and she shouldn't have cancelled the Malta trip.
For Bowles, Hyperemesis Gravidarum is not a serious health issue and thinks that Middleton should fight it through and should not cancel all the royal engagements, reported Celebdirty Laundry.
However, there is no proof to these reports, as Middleton and Bowles have not shown any discomfort in public and have been rather cordial.
Middleton is currently being taken care of by doctors in Kensington palace. She was reportedly quite keen to take the Malta trip but was advised by her doctors to skip it, report US Weekly.
"The Duchess of Cambridge will no longer visit Malta this weekend," the Palace had earlier revealed. "The Duke of Cambridge will undertake the visit instead. Her Royal Highness continues to suffer from the effects of Hyperemesis Gravidarum. The decision not to visit was taken by the Duke and Duchess on the advice of the Duchess's doctors."
Moreover, it has also been claimed that Middleton could give birth to twins this time. Paula Barry, who runs a midwives' clinic in the Coombe Women & Infants University Hospital, said to Independent that the condition of morning sickness aggravates even more if the mother is expecting twins.
"Morning sickness is linked to the HCG pregnancy hormone - the same hormone that is picked up when you do a pregnancy test - which comes from the placenta," Paula told Independent. "With a twin pregnancy, the hormone levels are higher and the mother can really be sick."
It is yet to be confirmed whether Middleton is expecting twins or not, but a slew of rumours claimed that Middleton has been eating yam to conceive twins. It is a belief that yam can help in conceiving twins.
Meanwhile, Middleton's due date is in April as she is currently 10 weeks pregnant, according to reports. The bets on baby's name have already been placed and Elizabeth is most popular if she gives birth to a girl.
Middleton and Prince William turned parents last year with the birth of Prince George.