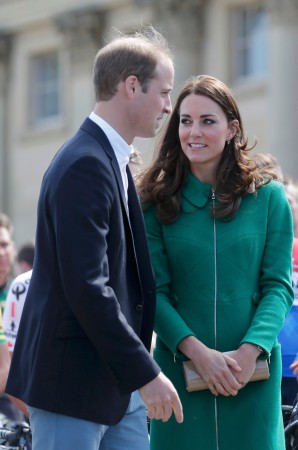 Kate Middleton has been sheathed by persistent pregnancy related rumors. It was reported that the Duchess of Cambridge was pregnant with her second child before another report claimed that she had a miscarriage. Now, the grapevine is abuzz with the news that she had a fight with Queen Elizabeth over her plan to adopt the second child.
The recent issue of Life & Style magazine suggested that Kate Middleton wanted to adopt a second child which disappointed the Queen.
According to a report by Celebdirty Laundry, Middleton decided to adopt a child as she is prone to pregnancy complications but the Queen wants the throne heir to be of royal bloodline. It added that the Duchess of Cambridge has been under enormous pressure to have three children in five years.
However, the reports are unconfirmed and it is not even sure whether Middleton and Prince William are ready for second child.
It may be recalled that several reports claimed Middleton to be expecting twins and that she had started developing a liking for cookies and gained 10lbs baby weight.
"Kate has always wanted a daughter, and she's talked about it so much that William did, too," a royal insider had revealed Ok! magazine. "Kate's upbringing with Pippa [Middleton] was idyllic and she always wanted to have girls of her own to carry on the legacy of strong, happy women. Plus, she thinks George having sisters will be tremendously good for his character."
"Kate has the cookies made fresh every day," said the source. "Wills jokes that his daughters are going to have a terrible sweet tooth!"
However, Prince William denied pregnancy reports during the Patrick Day's parade. Interestingly, the denial led to another rumor that Middleton had a miscarriage instead to putting an end to speculations.
Meanwhile, there were reports that the royal couple is planning to take Prince George on a vacation in UK after celebrating his birthday.
"The royal couple will be taking Georgie to Scotland to see Prince Charles and Duchess Camilla at their Highland home, and they'll also pay a visit to Queen Elizabeth II and Prince Philip at Balmoral Castle," Vanity Fair quoted a source as saying.