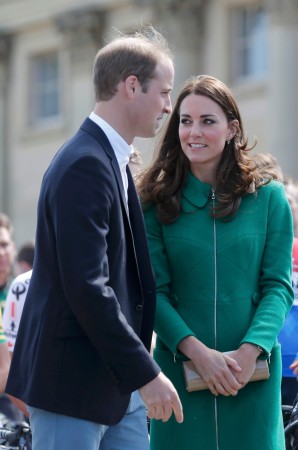 Kate Middleton was seen in public for the first time since the news of her pregnancy hit the headlines. She looked thin, but with a little baby bump during a dinner outing with her husband Prince William.
The royal family announced on 8 September that Middleton is pregnant with her second child, but the due date is not known yet. She gave birth to her first child, George on July 2013.
The royal couple was spotted dining out at the King's Head pub in Great Bircham on Thursday at around 7:45 pm and left at 10 pm, according to a Radar Online report.
Middleton showed signs of pregnancy with a little baby bum and also looked thinner in the exclusive photo of the couple obtained by the website.
"Locals were stunned to see the royal couple saunter in and sit at a quiet table in the corner," a source told the website. "Towards the end of the meal, a couple of stunned locals introduced themselves to the royal couple and shook their hands."
The report went on to say the royal couple, who was guarded by four armed Royal Protection Squad officers, "dined on black bream (a freshwater fish) with roasted vegetables on a bed of spinach, and shared a single vanilla ice cream." It added that pregnant Middleton had water while Prince William had red wine.
It is reported that Middleton is suffering from morning sickness called Hyperemesis Gravidarum due to her pregnancy and has already cancelled her two royal engagements - event at Oxford University and Invictus opening game ceremony.
It may be recalled that Middleton suffered severe morning sickness during her first pregnancy too, and may take 10 weeks to get over the sickness.
Hollywoodlife reported that the Duchess of Cambridge is very likely to cancel her solo trip to Malta. The trip is important, as she is supposed to represent Queen Elizabeth, but she may not be able to make it due to severe nausea.
It is reported that Middleton's doctor may not allow her to take the trip though she is eager to visit.
"Kate is said to be eager to go, and her staff members at Kensington Palace are giving her as much time as possible before a final decision is made about traveling to the Mediterranean island Saturday. They are carrying on with the planning for the visit," sources from the palace told People.