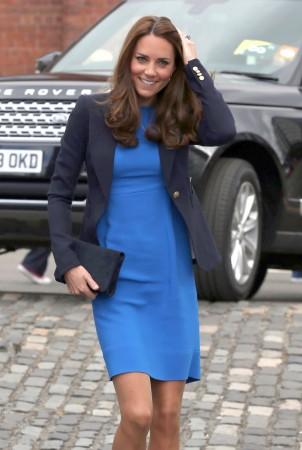 Britney Spears, who has recently launched her line of lingerie, has expressed her desire for Kate Middleton to wear her designs. The singer said at the launch of her "The Intimate Britney Spears Lingerie" in London that she would love to see Middleton wear the underwear from her brand.
"I would love to see Kate [Middelton] in my underwear designs. That would be splendid. I'm going to send her one of every piece. So she'll have plenty to choose from," she said according to Mirror.
Spears also said that the cherry red lingerie is the highlight of her collection and is one of the sexiest items. She wants to send the entire collection to the duchess in a royal mail.
The singer also said that she would like to see Gwen Stefani to model for it.
"I'd love to see Gwen Stefani modelling my collection. I think she's very cool and sexy," she told the daily.
Middleton is known for her great fashion sense and is considered a fashion icon in Britain. Her wedding gown designed by Sarah Burton became a rage, inspiring a bevy of designers.
The Duchess of Cambridge also created a stir with her pregnancy fashion. She usually wears outfits designed by some of the best designers in the country, and on one of the occasions she looked stunning in a simpleton and inexpensive jewellery from Zara.
Meanwhile, Middleton is expecting her second child. The duchess is suffering from morning sickness called hyperemesis gravidarum and is being taken cared of by doctors at Kensington palace.
The palace announced her pregnancy on 8 September.
"The Duke and Duchess of Cambridge are very pleased to announce that The Duchess of Cambridge is expecting their second child," tweeted Clarence House.
Middleton has currently stopped making any public appearances due to her health. She even cancelled her much-awaited Malta trip due to morning sickness.
Middleton and Prince William are already parents to 1-year-old George.