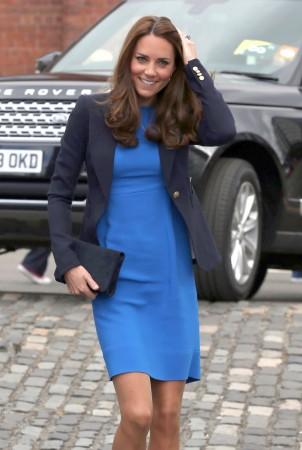 Kate Middleton's alleged on-going war with Queen Elizabeth seems to have worsened with the latter reportedly planning to move out of the Kensington palace.
A recent report by Life&Style magazine claimed that Kate Middleton has finally decided to move out of Kensington palace. The front page of the magazine reads: "At the war with queen. Kate packs up and leave."
Middleton and Queen Elizabeth are at constant fights over raising Prince George, reported the magazine. Owing to the disagreement, Kate has apparently decided to move to Anmer Hall for good.
According to the cover of the magazine, Kate said "I want a normal life," rejecting the Queen's attempt to control her.
The rumour of Middleton moving to Anmer hall is not new. Several reports have claimed earlier that she was planning to move to the countryside home.
However, it was also reported that Kensington palace would be official home of the royal couple - Prince Willaim and Middleton.
"Kensington Palace will be the Duke and Duchess's home for many years to come, including when he becomes Prince of Wales.I don't think we know for sure what will happen to Clarence House but I think we've always said Buckingham Palace will remain the monarch's residence," a royal aide told the Express.
Meanwhile, reports are also doing the rounds that Middleton and Prince William are all set to attend Charlie Gilkes' lavish wedding in Italy.
Middleton and Prince William, who are urrently enjoying their vacation in Anmer Hall with their son Prince George, may attend Gikes' wedding. It may be mentioned that Gikes was previously linked to Kate Middleton's sister Pippa Middleton.
Gikes is known for throwing prodigal parties and his fiancée Anneke von Trotha Taylor is in charge of the V.I.P. guest list for the upcoming wedding.
"The [Cambridges] are really looking forward to it and William and Kate are planning to leave Prince George with Kate's parents so they can go and have a good time," royal insider Katie Nicoll told Vanity Fair.
Middelton was recently spotted spending some quality time with Prince George at Princess Diana memorial playground.
"It was lovely seeing them play together in the sand," an insider told the Hello. "They had three protection officers with them but Kate seemed oblivious to anyone except her gorgeous baby enjoying himself."