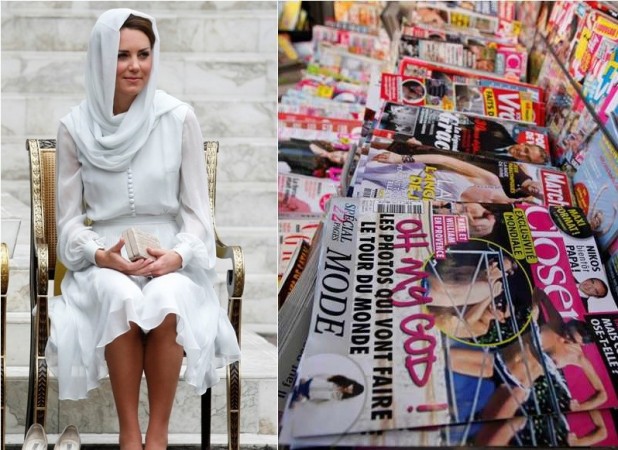 Even in the face of risking legal action as in the case of French magazine "Closer" over the pictures of a topless Kate Middleton, a Swedish celebrity gossip magazine has also printed the intimate photos on Wednesday.
The uncensored pictures of the duchess of Cambridge were already published in French, Irish and Italian magazines despite Prince William's effort to stop their usage.
On Tuesday, the French court granted injunction to ban Closer magazine from further publishing the pictures and also ordered it to hand over the pictures to the British Royals.
The chief editor of Swedish magazine "Se och Hor", Carina Lofkvist, said that her magazine had bought the pictures the usual way from photographers and agencies on Friday it was done before the issue started.
The magazine published 11 photos of the royal couple, of which four showed Kate sunbathing topless while she was holidaying in France.
"They are very cute pictures of a loving relationship," Lofkvist told Reuters.
"It is nothing new to us to publish nude photos of celebrities on holiday," she said.
She also said that the magazine decided to publish the pictures because they were not in any way obscene and had published similar pictures of celebrities in the past, according to Reuters.
The photos of the duchess were taken from the street when she was along with husband on the terrace of a private house in the south-eastern part of France.
Another magazine which is a Danish sister journal of Se og Hor, owned by the same Danish media company, announced that it was planning to print a 60 photo spread across a 16-page supplement on Thursday.
"It is in the DNA of 'Se og Hor' that we shall entertain and satisfy our readers' curiosity," editor-in-chief Kim Henningsen said in a statement on the weekly's website.