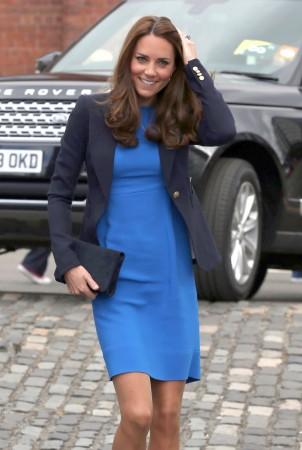 Iconic Australian feminist Germaine Greer has labelled Kate Middleton as "too thin" and just a "womb" for the Royal family.
In a Newsweek article, titled "The Duchess of Cambridge: How Britain Stopped Believing in the Royal Fairytale," Greer launched an attack on the Royal family, especially Middleton.
"Kate is a great deal more intelligent than the rest of the royals. She has been put in charge of William. She has a bastard of a job," she says, adding: "The girl is too thin. Meanwhile, she is vomiting her guts up and shouldn't have been made to go through all this again so soon."
"It's not so much that she has to be a womb, but she has to be a mother. I would hope after this one she says, 'That's it. No more'."
Greer says Middleton is not even allowed to decorate her house and feels she should be permitted to have an interest in modern culture. The journalist also explains that Middleton is not even allowed to be spontaneous and she has learnt what and what not say.
The Duchess of Cambridge has achieved great results at A-levels and she even went on to do degree in History of Art from the University of St Andrews.
Greer has also written an essay on Middleton's first pregnancy in 2012, and stressed her grave morning sickness should be reason enough for her not go for another baby soon, reports The Independent.
Middleton's second pregnancy was announced when she had to be pulled out of an event due to Hyperemesis Gravidarum. Post that, Middleton also cancelled her trip to Malta due to her morning sickness.
"The Duchess of Cambridge will no longer visit Malta this weekend," the Palace had revealed as per US Weekly. "The Duke of Cambridge will undertake the visit instead. Her Royal Highness continues to suffer from the effects of Hyperemesis Gravidarum. The decision not to visit was taken by the Duke and Duchess on the advice of the Duchess's doctors."
The palace is yet to comment on Greer's article. Meanwhile, Middleton has also lost her popularity amongst the British, as per a poll conducted through Newsweek. Based on it, Prince Harry is the new favourite royal and Middleton is only fourth.
Queen Elizabeth and Prince William are at the second and third places respectively. Apparently, only 1% respondents said that they want to step into the shoes of the Duchess of Cambridge or want to be like her, as per reports.