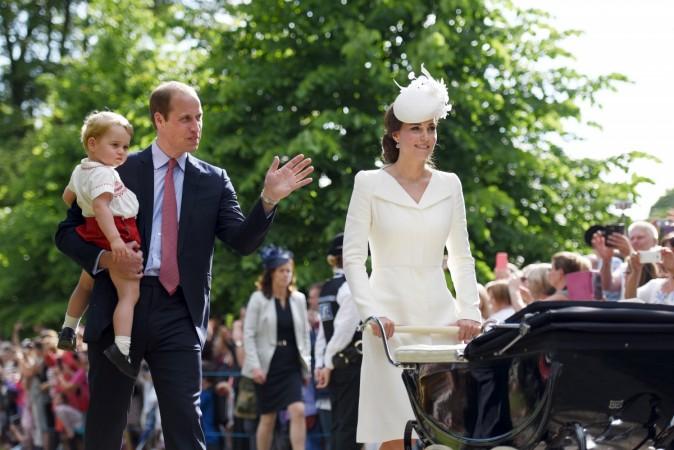 Rumours about Kate Middleton's third pregnancy resurfaced on the web just ahead of her and Prince William's visit to India and Bhutan. According to latest reports, even though the alleged pregnancy won't affect the present royal tour anyhow, the Duchess of Cambridge might change her plans of future appearances.
The Duke and Duchess are apparently beyond thrilled and are very excited to welcome the new baby and expand their family, reported Hollywood Life. According to the report, the news has come as a surprise to the mother-of-two and the royal couple is apparently making alterations in their summer plans to prepare for Kate's pregnancy.
"To be honest, it was an accident and a total surprise. They hadn't wanted a third child for a couple of months, but now that it has happened, she and William are thrilled," a source said.
Both the Duke and Duchess of Cambridge have time and again mentioned about enjoying parenthood and having a huge family. So, the news of a third pregnancy has come as a pleasant surprise and they are over the moon. "Kate and William absolutely love being parents. They are having the time of their lives," shared the source.
The website further reported that this alleged pregnancy won't get in the way of the royal couple's present India tour, but the Duchess apparently feels the need to make changes to her future appearances. And this is the reason she had to break the news to the royal family as she had to give a reasonable excuse to cancel on her royal duties.
The website further pointed out that Kate has apparently cancelled her trip to the Brazilian city of Rio de Janeiro, which she was supposed to go to with William to attend the Summer Olympics, to avoid the risk of contracting the Zika Virus.
Meanwhile, Hello Magazine has revealed how the Duchess of Cambridge plans to stay in touch with her two children — Prince George and Princess Charlotte — while she is away during her week-long trip to India and Bhutan.
According to the report, the Kate and William will stay connected with their children as much as they possibly can. The report said that they might Skype their two children, just like how the Queen does to stay in touch with her granddaughter Zara Phillips.
On the other hand, even nanny Maria Turrion will be in touch with the couple on a daily basis and keep them updated. In fact, the report also said that the nanny will create a diary comprising photos and chronicle of any special moment that they might have missed and can catch up on when they get back home.
Well, we don't know how true these reports are, but if they are, then it looks like Prince William and Kate Middleton sure love being parents.