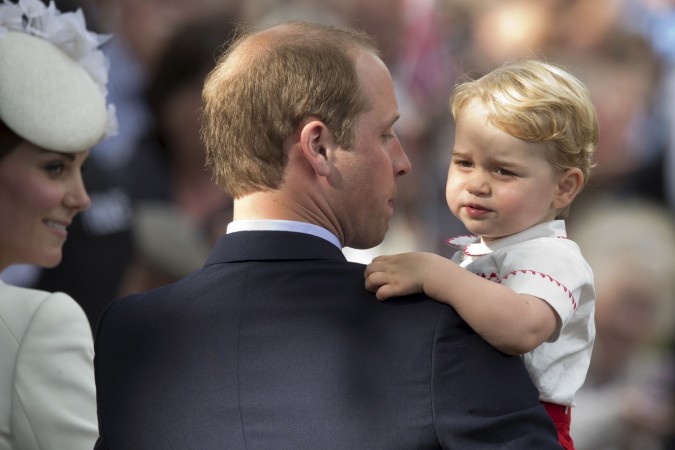 Kate Middleton gave a rare insight into her family life on Commonwealth Day, which took place Monday, March 14, at Westminister Abbey. While speaking to students at St. Matthew's Primary School, Westminster, the Duchess of Cambridge said that her son, Prince George, has been giving her and Prince William a difficult time by zooming off in his new ride: a Micro Scooter, according to Daily Mail.
"He's got a scooter. He's going super fast on it. It's hard to keep up with him," she said.
The younger royals, Middleton, her husband and Prince Harry, joined the Queen and Prince Philip to mark Commonwealth Day. The event was attended by U.K. Prime Minister David Cameron, former U.N. secretary general Kofi Annan, commonwealth secretary general Kamalesh Sharma, Maltese Prime Minister Joseph Muscata and others.
The Duchess of Cambridge's children were absent from the ceremony, and she spoke fondly of them. She said that her 10-month-old daughter, Princess Charlotte, keeps her elder brother in check. In Middleton's words, "Charlotte is getting bigger by the day."
According to the outlet, Prince George, 2, has been riding his Micro Scooter in Kensington Gardens along with his nanny Maria Borrallo.
The royal family's appearance at the Commonwealth Day service comes after the younger royals were attacked by British media for their easy work schedules. However, according to another Daily Mail article, the Duchess of Cambridge has reportedly broken away with a 115-year-old tradition and will not hand out shamrocks to Irish guards on St. Patrick's Day this year.
A source told the outlet, "It appears that Kate, in London for Commonwealth Day, was keen to get back to Norfolk and her children. So William will dole out the shamrocks. Naturally Irish Guards officers are deflated."