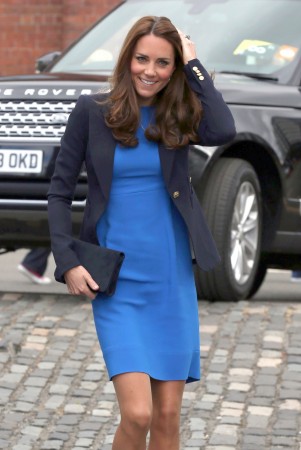 For months, the British royal family has been dogged by rumors of tension between Kate Middleton and Camilla, and Camilla and Queen Elizabeth. But it looks that these rumors were just that, as a new report claims that Middleton and William will be spending time with Camilla and Queen Elizabeth during their time off.
The Duke and Duchess of Cambridge, along with their one-year-old son, Prince George, will be vacationing at Anmer after their current official engagement in Belgium to commemorate World War I.
And after that, the royal couple will head out to their Highland home to holiday with Prince Charles and his wife Camilla, as well as visit Balmoral Castle in order to spend time with Queen Elizabeth II and Prince Philip, reported Independent.ie.
"They will be at Anmer for much of the time they have off," an insider told Vanity Fair's Royal Watch. "They cannot wait to move in and they want to make sure the last stages of the refurb go to plan."
This comes amidst reports that Middleton does not get along with Camilla.
Life & Style magazine reported last month that Middleton have been having issues with Camilla and Queen Elizabeth after the Duchess of Cambridge decided to name her second child Diana, after Prince Charles' first wife.
"Pregnant Kate Announces It's a girl!" the July 4 cover of the magazine exclaimed, adding that the Queen was furious with Middleton's decision. But William was reportedly adamant that his second child, if a girl, would be named after his late mother.
On the heels of the Life&Style report claiming to have dirt on the alleged fight between Middleton, Queen Elizabeth and Camilla, Globe magazine came out with another story claiming that Camilla was divorcing Prince Charles, and that has demanded a pay-out of close to $350 million.
Reportedly, her nine years of marriage to Charles have made her privy to a lot of dirt on the royal family, and she wanted the money to keep her silence, the July 14 print edition of Globe magazine claimed.
However, the ailing Queen Elizabeth has no intention of giving her a dime, and even called the Duchess of Cornwall a disgrace, reports indicate.
At the time, Celeb Dirty Laundry reported that the divorce claims intensified after Camilla realised that the time she invested to reach her way onto the throne has completely failed, and this caused a lot of trouble in her relationship with Charles.