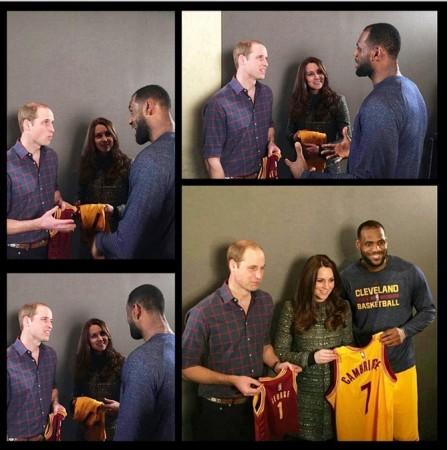 Kate Middleton and Prince William, the Duke and Duchess of Cambridge ended their three-day trip to the United States in style watching an NBA game between the Cleveland Cavaliers and Brooklyn Nets at the Barclays Centre in New York City. They met US basketball royal LeBron James after the game too.
The British Royals sat among the crowds rubbing shoulders with Beyonce and Jay Z, who used to be part owners of the Brooklyn Nets. The power couples exchanged pleasantries during a break at the game.
At the end, William and Kate finally got to meet LeBron James who presented them with a Cavs jersey each and one for Prince George too. James also gave them cupcakes from his hometown Cleveland and seemed to joke around with the Duke and Duchess.
James posted pictures of him with the royal couple on Instagram captioning one of them:
"This very moment will be forever remembered and put up in my house. It's all good and smiles on this side. #Royalty #StriveForGreatNess #RWTW #LRMR #Klutch"
LeBron James was apparently super excited to have the Royal couple over for a game.
"It's an honor. It's a huge honor. The stuff that you read about, people like them are only in books growing up. And to hear that they're coming to town to see me play and they want to see me do what I do best, it's a huge honor," James told ESPN at a Sunday practice session.
"To have those two, to say they were traveling here and one of the things that they wanted to do was see me play, it's a pretty big deal in my household," he added.
The Cavaliers won the game 110 to 88.
Before the game even started, William and Kate met NBA star Dikembe Mutombo and some top NBA executives for a photo op too.
Prince William and Kate Middleton's three-day trip to the states has been an eventful one. Before heading over to the Barclays Centre, the royal couple met Hillary and Chelsea Clinton at the British Counsel General's Office.