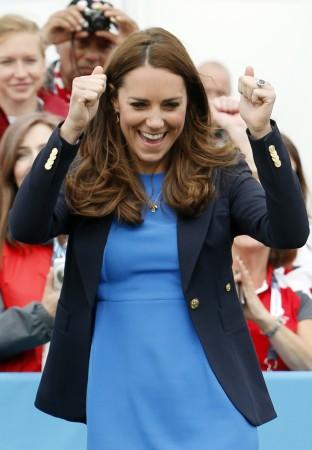 Now that the palace has officially confirmed that Kate Middleton and Prince William are expecting a second baby, speculation on what the second royal baby will be named has already started doing the rounds, with Elizabeth being the popular choice for a girl.
Other popular girl names for a princess include Victoria, Alexandra, and Mary, and if the new baby is a boy, then Henry and James appear to be the favourites, according to reports.
Clarence House announced the news on its official Twitter account, writing: "The Duke and Duchess of Cambridge are very pleased to announce that The Duchess of Cambridge is expecting their second child." As with her first pregnancy, Middleton is suffering from Hyperemesis Gravidarum, a condition that can cause dehydration and weight loss, and she is currently being treated by doctors at Kensington Palace, the statement read.
Interestingly, bets on the name of the second royal baby started long before the Duchess of Cambridge announced that she was pregnant. At the time, it was also reported that the royal couple might name their second offspring after William's mother, Diana.
An earlier Life & Style report claimed that William wanted to keep his mother's memory alive through his daughter. "If it's a girl, the name would have to be Diana, wouldn't it?" Diana's close friend, Marie Sutton, told Life & Style magazine in July, according to HollywoodLife.
In recent months, the royal couple has been open about their intention to expand their family, and the Life & Style report noted that the Duchess was sure it's a girl this time around, as she feels "different" with her second pregnancy.
On Middleton's desire for a daughter, an insider dished out to OK! Magazine that the Duchess wants girls to "carry on the legacy of strong, happy women."
"Kate has always wanted a daughter, and she's talked about it so much that William did too," the insider told OK! Magazine. "Kate's upbringing with Pippa was idyllic and she always wanted to have girls of her own to carry on the legacy of strong, happy women. Plus, she thinks George having sisters will be tremendously good for his character."
The new baby will be the fourth in line to the throne.