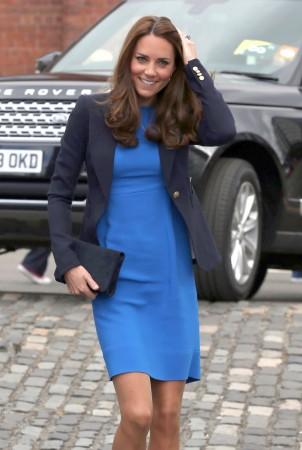 A recent buzz has suggested that Kate Middleton may give birth to twin girls. Reports of Middleton expecting twins have been doing the rounds for quite sometime now, but this time, some said that she has developed baby bump in just 10 weeks into pregnancy, giving a hint that it could be true.
The Duchess of Cambridge was spotted with a baby bump on her 11 September while she was on a dinner date with husband Prince William, according to Celebdirty Laundry. It is reported that baby bump appears much later if a mother is pregnant with a single child.
It is also reported that the couple has thought of two names, one is Elizabeth and the other is Margaret. They reportedly want to name their child Elizabeth in honour of Queen Elizabeth and Margaret as a tribute to Queen Elizabeth's late sister Margaret.
Clarence House announced Middleton's pregnancy on 8 September but didn't say if she is expecting twins.
However, it is also being said that two heartbeats have been found in Middleton's ultrasound, as reported by Epoch Times.
"While the official announcement said Kate was expecting another little prince or princess, it's possible she's actually carrying twins," the source said, adding, "That's because an ultrasound test performed around the six-week mark of her pregnancy indicated the presence of two heartbeats," the Website quoted a report by National Enquirer.
Meanwhile, Middleton is suffering from severe morning sickness and is being taken care off by doctors at Kensington palace. She had to cancel her Malta trip due to her health condition. Her husband Prince William stepped in for her and celebrated the 50th anniversary celebration of Malta's independence.
While attending the events in Malta, Prince William said that his wife is doing "so-so" and is "being looked after very well." He revealed that Middleton was disappointed that she couldn't make it to the trip.
Middleton's due date is expected to be in Spring 2015. There are chances that the baby would share his or her birthday with England's Queen on 21 April, according to reports by Mirror.
Prince William and Middleton's first baby Prince George was born in July 2013.