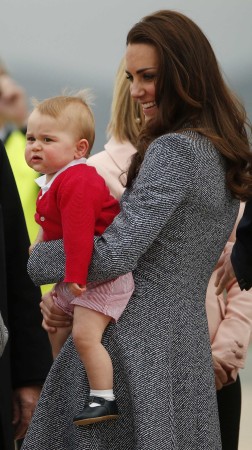 Kate Middleton has been dogged by pregnancy rumors for months, and now a new report claims that the Duchess of Cambridge is expecting twin girls with Prince William.
The report by OK! magazine notes that William and Middleton wanted a baby girl for a long time, and now that they are having two girls, and the Duchess is ecstatic.
"Kate has always wanted a daughter, and she's talked about it so much that William did too," an insider said. "Kate's upbringing with Pippa [Middleton] was idyllic and she always wanted to have girls of her own to carry on the legacy of strong, happy women. Plus, she thinks George having sisters will be tremendously good for his character."
Middleton was initially apprehensive about getting pregnant immediately after her first delivery as she was not sure how Prince George would be around other children. But during the recent New Zealand trip, he shared toys with other toddlers and this has reportedly taken a huge weight off Middleton's shoulders.
She is now busy planning nursery details and gathering George's old clothes to use as hand-me-downs, the report stated.
Reportedly, the entire palace is abuzz with excitement ever since Middleton's second pregnancy was announced, and Queen Elizabeth has been putting away gifts to give the girls when they are born.
"Queen Elizabeth has been keeping jewelry and gifts for years now, just in case William ever had a daughter," the source said. "It's a tradition in the family. The new princesses will inherit priceless antique diamonds and artwork. There's also a stunning cradle that once belonged to Queen Victoria and a silver rattle handed down from the late queen mother."
William's stepmother, Camilla Parker Bowles, has allegedly gifted Middleton an heirloom necklace.
Sadly, Middleton's second pregnancy reports has also drawn the ire of many who believe she is not dedicating sufficient time to charity works as the late Princess Diana.
But the source defended Middleton saying that the Duchess' priority is to be a mother first, and that she will consider taking up more responsibility only after her children are older.
"Kate knows people think she's lazy because she does nowhere near the amount of charity work Princess Diana did, but the truth is, she wants to be a mother first and foremost," an insider revealed. "She wants to be as hands-on as possible. Even William has said he wished he could have had more time with his mother. Kate is determined to put her children first and will consider taking on more responsibility as her children become older and start school."
The Clarence House has yet to confirm or deny these pregnancy reports.
Interestingly, this is not the first time reports have predicted twins for Middleton and William. In March, OK! reported that the Duchess was "14 weeks along" with twins, and that the couple was looking forward to welcoming girls into the household as they have so many boys in the family.