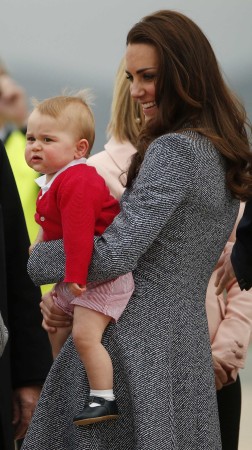 In another round of rumors, it is being said that Kate Middleton is expecting another child. The 7 July edition of 'In Touch' has revealed that Middleton and Prince William are thrilled as they are going to become parents to another son. The magazine printed a photo of Middleton on its cover with the caption "first bump pics."
Celebdirtylaundry reports that the royal couple is looking forward to having three kids including Prince George.
However, the latest reports seem strange, as previously it was rumored that Middleton is pregnant with twin girls.
"Kate has always wanted a daughter, and she's talked about it so much that William did, too. Kate's upbringing with Pippa [Middleton] was idyllic and she always wanted to have girls of her own to carry on the legacy of strong, happy women. Plus, she thinks George having sisters will be tremendously good for his character," Hollywoodlife had quoted source from magazine that time.
The report had further claimed that Middleton has already gained baby weight, almost 10lbs and has developed a craving for sweets.
"Kate has the cookies made fresh every day," the source had said. "Wills jokes that his daughters are going to have a terrible sweet tooth!"
No royal source has yet confirmed the rumors of Middleton's second pregnancy with a son.
And for those who remember on one of the previous occasions, Prince had suggested that Middleton is not pregnant and one child is enough at the moment. Prince had said this to Regimental Sergeant Major Ray Collister at Irish Guards' St Patrick's Day Parade in Aldershot, Hampshire.
"He said maybe when there's time," Major Ray told the Daily Mail about royal couple's plan for another baby, adding, "I asked them all about George, I'm nosey like that. They said he's doing really well and is very busy crawling and eating. They said they're very busy sorting everything out for taking him to Australia. They're very excited."
Meanwhile, it was also rumored that Middleton is leaving Kensington Palace for Anmer Hall as she wanted to raise Prince George in quite surroundings.
However, now a royal source has confirmed that Middleton and Prince William are going to keep Kensington Palace as their official home.
"Kensington Palace will be the Duke and Duchess's home for many years to come, including when he becomes Prince of Wales," reported Express.