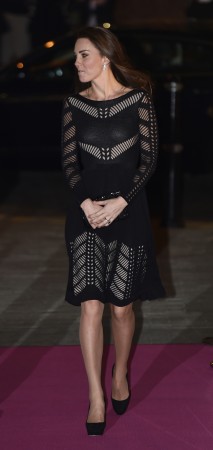 Rumours of pregnant Kate Middleton expecting twins have been put to rest, after a palace spokesperson reportedly confirmed that the Duchess is only expecting one child when she gives birth sometime in April.
An official statement from the palace also noted that the royal couple is expecting "a baby."
"Their Royal Highnesses The Duke and Duchess of Cambridge are delighted to confirm they are expecting a baby in April 2015," a simple statement from Kensington Palace read. "The Duchess of Cambridge continues to be affected by Hyperemesis Gravidarum, but her condition is steadily improving."
Talks of Middleton expecting twins have been doing the rounds even before the palace officially announced her pregnancy in September. A recent National Enquirer report noted that the Duchess had an ultrasound during her 12-week pregnancy checkup, which showed that there's just one baby, and it's a girl.
The magazine also claimed that Middleton had a health scare recently that saw her collapsing on the floor, following which she was transported to a medical facility 20 minutes away, reported The Epoch Times.
"A checkup showed Kate was fine and so was the baby," the insider claimed. "But it was a real scare and now William has ordered that Kate be watched closely. She's back on her feet, but she's not 100 percent."
The source added: "But she keeps smiling to herself – excited that the entire family's dreams have come true."
The Enquirer report even has a quote from Middleton's childhood friend Jessica Hay, who said that the royal couple is excited to be parents to a little girl.
"William and Kate had talked endlessly about how they'd love to have a little girl," Hay reportedly told the outlet, according to The Epoch Times. "They were initially planning to wait until the baby was born and let the gender be a surprise."
As reported earlier, Hay was the first person to reveal that Middleton was pregnant with her second child, when she confessed the news to Australia's New Day in July.
"Kate's inner circle are buzzing with the news that she is expecting," Hay said at the time, according to The Hollywood Gossip."I've heard it from several different friends of theirs now and they're saying that they think there's going to be an official announcement in weeks.
"Kate's face is fuller like it was when she was first expecting George and she's been changing her hair, which could be to disguise the fullness."