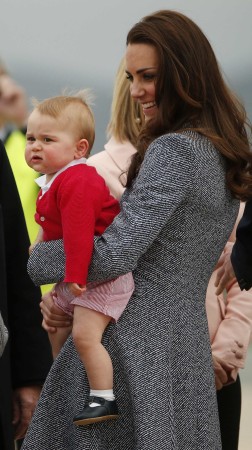 Prince William and Kate Middleton welcomed their firstborn, Prince George, into their lives almost a year back, and to celebrate the occasion Vanity Fair magazine has dedicated a special feature to the royal couple.
Besides an extensive feature on how their lives have changed since the birth of Prince George, the feature also shed light into latest news regarding the Duchess of Cambridge's rumored second pregnancy.
Reportedly, there are talks among the royal couple's friends that William and Middleton will try for a second baby this summer. And because summer is already here, several media reports suggest that Middleton might already be pregnant.
Her physical appearance has been under scrutiny ever since rumors of the second pregnancy started doing the rounds early this year, and recent pictures show her looking bloated and puffy, which has aided pregnancy speculations.
Furthermore, Middleton's sister Pippa is believed to have told crew members who were present during her interview with Matt Lauer that the Duchess is in the early stages of pregnancy.
An official confirmation from the palace is yet to come, but the Vanity Fair report suggests that William and Kate have been preparing Prince George by taking him on playdates to their friends' homes.
Reportedly, Middleton was initially apprehensive about getting pregnant so close to her first delivery as she did not know how Prince George would react to other children. But the New Zealand trip gave her comfort as the little prince was not hesitant to share his toys with the other toddlers there.
A few months back, OK! Magazine reported, quoted a palace insider, that William and Middleton are hoping that their second child would be a girl.
"Kate has always wanted a daughter, and she's talked about it so much that William did too," a palace insider said.
"Kate's upbringing with Pippa [Middleton] was idyllic and she always wanted to have girls of her own to carry on the legacy of strong, happy women. Plus, she thinks George having sisters will be tremendously good for his character," the source added.
The report went on to add that Queen Elizabeth too is excited about William and Middleton having a daughter.
"Queen Elizabeth has been keeping jewelry and gifts for years now, just in case William ever had a daughter," the insider revealed.
"It's a tradition in the family. The new princesses will inherit priceless antique diamonds and artwork. There's also a stunning cradle that once belonged to Queen Victoria and a silver rattle handed down from the late queen mother."