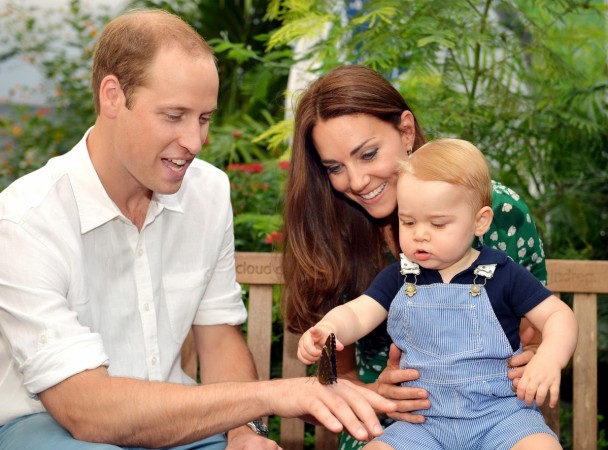 Amid pregnancy buzz around Kate Middleton, a new report has suggested that Prince George may have a sibling later than expected. Princess Diana's astrologer has claimed that the Duchess of Cambridge could expect her second child only sometime next year.
"The first big thing that is going to happen to him is the arrival of a new baby brother or sister which will almost certainly be next year. The advent of a new sibling will make a big difference to George because he will be knocked off his pedestal, but already we can see he is a charming, outgoing, confident little person," Princess Diana's former astrologer, Penny Thornton, told People.
This revelation came amid reports that Kate Middleton is pregnant with her second child. The duchess was spotted covering her tummy on many occasions, sparking off rumours that she could be pregnant and that palace could announce the happy news any time.
Thronton went on to say that Prince George will face his first challenge when his sibling arrives.
"Jupiter is now in a new place, so maybe some more travel [for Prince George]. His first big challenge will appear when baby number two arrives and that isn't so very far away."
Meanwhile, Prince William and Kate Middleton had reportedly thrown Peter Rabbit-themed bash on Prince George's first birthday at their Kensington Palace abode on Tuesday. The birthday party of the royal baby was attended by Queen Elizbeth, Prince Harry, Jamie Lowther Pinkerton, Emilia Jardine Paterson and Zara Phillips. Middleton's siblings - James and Pippa Middleton - and her parents Michael and Carole Middleton also attended the party.
The Golden Jubilee Bridge was lightened up and the Marble Arch glimmered with blue lighting between 8 p.m. and midnight on Prince George's birthday.
"Turning these iconic landmarks blue once again is a fitting way to recapture some of the excitement of last July and a great way to mark the prince's first birthday. My congratulations go to all the royal family on this day and on behalf of everyone at Westminster City Council, I would like to wish His Royal Highness Prince George a very happy first birthday," Robert Davis, deputy leader of the Westminster City Council told Get West London, reported E! Online!