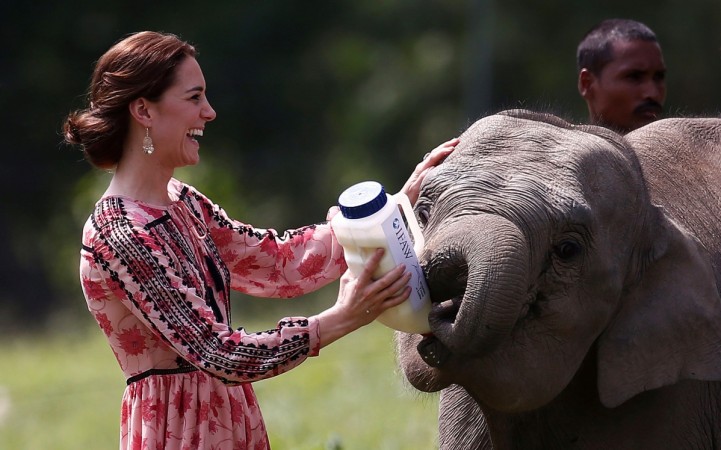 There are a few days left on Prince William and his wife Kate Middleton's India-Bhutan Tour. However, the Duchess of Cambridge is already missing her kids Prince George and Princess Charlotte.
The royal couple, who visited the Panbari village in Kaziranga National Park Wednesday, met the elders of the village. A 93-year-old lady asked Middleton why her kids didn't join them on their trip, according to Forbes. Prince William's wife replied that her son, Prince George, couldn't come because he is very naughty.
"He would be running all over the place. The next time we come we will definitely bring them," she added, according to Popsugar.
Traditionally, direct heirs to the throne do not travel together, but Prince William broke this rule when he visited Australia and New Zealand in 2013.
The Duchess of Cambridge, who has been away from her kids a long time, acknowledged that she misses them.
Meanwhile, the royal couple felt tremors after an earthquake measuring 6.9 magnitude hit India, Bangladesh and Myanmar. The Duke and Duchess of Cambridge, who are reportedly safe, will travel to Bhutan Thursday to meet the King and Queen of the once-isolated country.
Their short stay in the Himalayan Kingdom includes a private audience and dinner with King Jigme Khesar Namgyal Wangchuck and Queen Jetsun Pema. Britain's royal couple will also trek up a mountain to visit Tiger's Nest monastery, according to BBC.
Part of their trip will focus on Buddhist traditions in a country that seeks to gain economic power. Bhutan, which is ranked #1 on the gross national happiness index, owes large external debt and is dubbed as a country "high risk of government debt crisis," reported local media outlet BBS.
Middleton and Prince William will leave for India again Saturday, April 16, and conclude their trip after visiting the Taj Mahal.