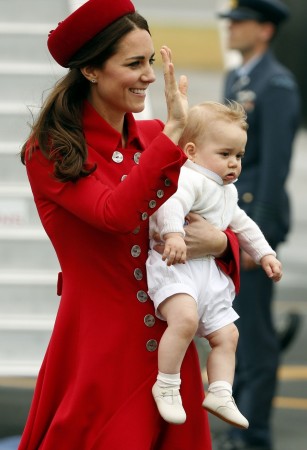 Kate Middleton dazzled in red as she touched down at the New Zealand airport. The royal couple has finally embarked on their royal tour, accompanied by Prince George.
For her first appearance, Middleton chose a scarlet red coat from Catherine Walker's collection, which she paired with a Gina Foster hat. She wore silver fern diamonds on her ears and platinum brooch on the left side of her coat. Queen Elizabeth wore the same brooch for the first time during her Commonwealth Tour in 1954.
Prince William was seen sporting a navy blue suit and a red tie whereas Prince George was seen in a red sweater and white pants.
Middleton looked impeccable in red and made a great impression on her first day of the tour. The couple flew first class on Qantas Airways, and will be staying at Government house in Wellington. The royal family will be travelling throughout Australia and New Zealand for the coming three weeks, which will include meets and greets and photo opportunities.
Today, April 7, the royals will be attending their first reception in New Zealand.
"The Duchess has never visited either country, so this is a chance for her to meet the people of New Zealand and Australia for the first time," US Magazine quoted William's private secretary Miguel Head. "So, for the couple, this visit represents a wonderful opportunity on the one hand for The Duke to deepen his personal relationship with, and admiration for, New Zealand and Australia; and on the other, for the Duchess to experience some of the extraordinary warmth and hospitality for which the people of both countries are renowned the world over."
(Edited by Vanilla Sharma)