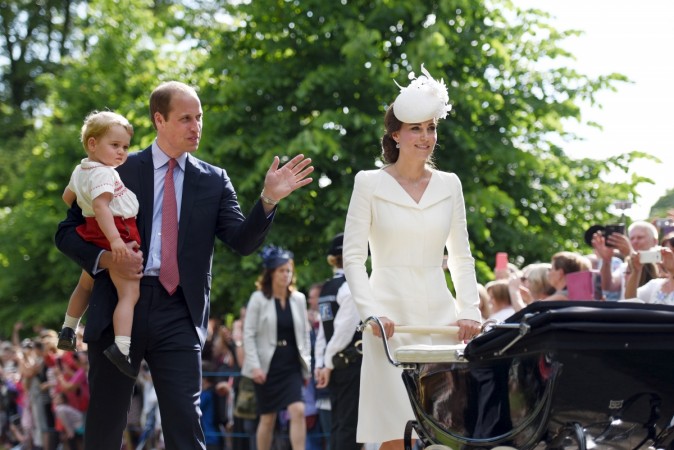 Kate has revealed why she, as the Duchess of Cambridge, gets teased by the other members of the royal family. Middleton, undoubtedly is one of the most popular and beloved royal family members, but in the upcoming ITV documentary "Our Queen at Ninety," the Duchess has confessed that her talkative and over-friendly nature gives the royal family a chance to make fun of her.
According to US Weekly, the Duchess said, "There's a real art to walkabouts, everybody teases me in the family that I spend far too long chatting. I still have to learn a little bit more, and to pick up a few more tips, I suppose."
Talking about how Queen Elizabeth II has been helping her through this queen-in-training procedure, the Duchess shared: "She's been generous and not forceful at all in her views. And she's really been there in a gentle guidance for me."
Meanwhile, Middleton is in all festive spirit and gearing up for her first Easter as the mother-of-two. While royal watchers thought it would be a full family affair, it looks like the Duchess of Cambridge would spend Easter only with her children Prince George and Princess Charlotte, sans Prince William.
This year, it's the first Easter for the Duke and Duchess of Cambridge as parents of two, after the birth of Princess Charlotte. So, many obviously thought that the family would be spending the weekend together. But now, it looks like it will only be the Duchess with her son and daughter as Prince William is on a private visit to Kenya to meet President Uhuru Kenyatta.
According to Hello!, the mother-of-two will be spending the day privately with her children and will be accompanied by her side of the family -- the Middletons. "The Duchess of Cambridge will be spending the Easter weekend with her children," a source said.
The report also said that the Duchess would be spending the weekend at her parents' home in Berkshire and that her younger sister Pippa and brother James may travel from London to join their elder sister and her children.
The source reportedly said that the Duchess of Cambridge is really excited about this year's Easter as it is her daughter Charlotte's first Easter holiday, and George will be able to take part in the traditional celebrations like Easter Egg hunt.
According to the report, while the Duchess would be spending Easter with the Middletons, the other members of the royal family will join the Queen at Windsor Castle.
It looks like, the Easter weekend is going to be all fun for Kate Middleton and her children.