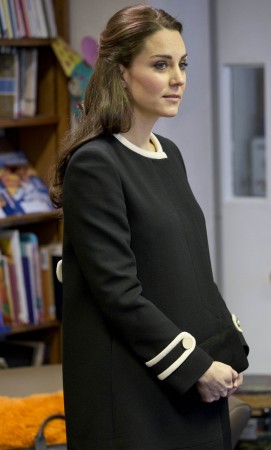 The Palace has not released any official confirmation on the gender of Prince William and Kate Middleton's second child, but several reports claim that the royal couple is expecting a baby girl.
The Duke and Duchess of Cambridge reportedly found out the gender of their child during a recent ultrasound, and the couple is said to be ecstatic, reported Star Magazine. Reports also noted that William and Middleton have zeroed in on a name that would make Queen Elizabeth happy, as the baby is expected to be called Margaret Elizabeth - Margaret, after the Queen's late sister, and Elizabeth after the Queen herself.
Earlier reports had noted that William and Middleton will name their child after his late mother Diana, if the baby turns out to be a girl. Royal biographer Andrew Morton told the Sun on Sunday that the couple's daughter would be named Elizabeth Diana Windsor.
"Close friends to William and Kate have told me that if it is a girl they want to name the baby after Diana," Morton said. "They discussed girls' names before George was born and now they're hoping the next one is a girl so they can carry out their wish to honour William's mother. They're not too thrilled at the thought it will be shortened to Princess Di. But it won't change their minds."
Meanwhile, Star Magazine claimed that the young couple revealed the gender of the baby at the pink-themed baby show organised by Middleton's sister Pippa. "There were pink iced cupcakes, pink cocktails, and a huge white cake – with a pink sponge and strawberry filling. George had pink icing all around his mouth and everyone was taking photos of him. He loved it!" a source told the magazine, according to Celeb Dirty Laundry.
Contradicting this report, is a statement made by Prince William himself, who told US President Barack Obama recently that he wants the sex of his second child to be a surprise.
According to Express, William told Obama that he was so excited at the time of Prince George's birth that he forgot to check if it was a boy or a girl.
"We want a surprise. Last time, I remember when George was born, I actually forgot to work out if it was a boy or girl. The excitement of the event and everything else ­ it was chaos," he said.