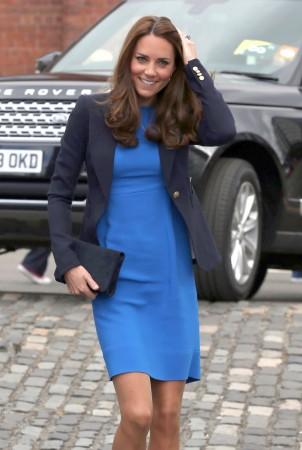 Kate Middleton may soon embrace a second pregnancy, now that she is well settled at the countryside Anmer Hall, as per the reports. There has been a lot of buzz on Middelton's plan to extend her brood in the last few months.
Now, Middleton has reportedly told her friends that she is ready to play a mommy for the second time.
"Kate has been talking about having at least three children, which is why she is keen to be pregnant again. The Duke would probably be happy with two but Kate is very close to her brother and sister and there is a sense that as she is one of three, she would like to have three herself," Express quoted a source close to the couple as saying.
The royal couple has recently shifted to their Norfolk home and are seemingly excited to spend time there. It is understood that the couple would be spending two years away from the city's cacophony.
Prince William is also reportedly joining the East Anglian Air Ambulance.
The couple was busy renovating the 200-year-old property, giving a new face and freshness to the property which is perched upon acres of land of Sandrigham estate.
The money spent in the makeover of the country home, which was gifted to Prince William by Queen Elizabeth II on his 30th birthday, is said to be 1.5 million euros.
"The couple are hugely excited about spending more time in Norfolk. They feel like caged animals at Kensington Palace but in Norfolk can live the kind of life they enjoyed on Anglesey. There are no paparazzi waiting on the doorstep. It's the perfect place to bring up a young family," said the source, suggesting the reason for couple's decision to move to Norfolk.
Meanwhile, it is suggested that Prince William is second- in line to take the throne and can spend time living a little relaxed life away from Kensington palace.
Prince Charles would be taking the royal responsibilities after Queen Elizabeth retires. Apparently, Prince Charles is supporter of Prince William's decision of moving to Anmer Hall.
"He, of all people knows how important it is for William to have as normal a family life as possible before taking on more responsibility within the family," a close aid to the royals said of Prince Charles.