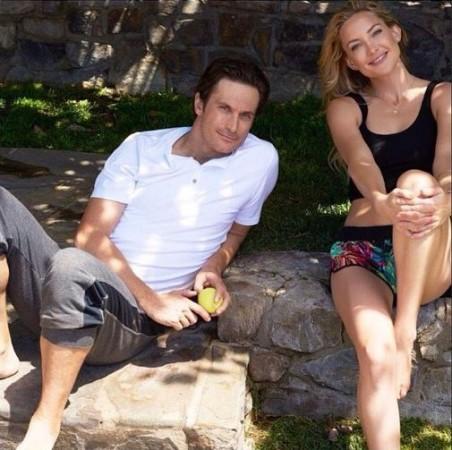 Kate Hudson and her brother Oliver would have never, even in their wildest dream, imagined that their estranged biological dad Bill Hudson would publicly disown them. But the brother-sister duo has decided to retain their last name and not drop it as expected by Bill.
While Bill is Oliver and Kate's biological father, he hasn't been around for almost a decade and the two were brought up by their mother and actress Goldie Hawn and her second husband Kurt Russell.
The "Nashville" actor and his Oscar-nominated sister found themselves in the middle of a bitter feud with their estranged musician and father, after Oliver posted an Instagram photo on Father's Day.
The photo had Kate and Oliver as kids along with their father Bill and Oliver had captioned it by writing: "Happy abandonment day...@katehudson"
In addition to this, Kate shared another picture of hers and Kurt, with the caption: "Pa, just simply..... Thank you. Happy Fathers Day I love you to the moon and back. #HappyFathersDay".
These posts left Bill deeply hurt and devastated; he has blamed Kurt and Goldie for what has happened. In an interview with Daily Mail, the father of five said that he now considers himself to be a father of three. And that he doesn't recognise Kate and Oliver as his own.
"I would ask them to stop using the Hudson name. They are no longer a part of my life. Oliver's Instagram post was a malicious, vicious, premeditated attack. He is dead to me now. As is Kate. I am mourning their loss even though they are still walking this earth," Bill said.
"When we split up, (Goldie) never had a bad word to say about me. But when Kurt came on the scene, the narrative changed and I became the big, bad wolf. I would say to her, 'Goldie, why are you trashing me and saying I'm an absent father when it's simply not the case?'" he added.
Despite Bill slamming the siblings publicly, Oliver and Kate have decided to retain their last name, reports Hollywood Life.
"Kate and Oliver had considered changing their last name years ago to Hawn or Russell, but then their careers took off and they chose not to. Part of them regrets not changing their names now, but it probably won't happen at this time in their lives," a source said.
Apparently, according to US Magazine, Kate and Oliver are not surprised by their dad's insensitive decision of disowning them.
"They don't care and are not surprised by this. To them, their father has been pretty much dead to them for decades and they had zero relationship with him. It's been this way, and he's been saying this stuff forever," a source close to the "How to Lose a Guy in 10 Days" actress told the website.
Another source close to Oliver reportedly added, "They weren't surprised at all that Bill spoke out. He's always trying to clear his name and his image."
Well, it looks like Kate Hudson and her brother Oliver's reaction to this whole thing is going to be very mild.