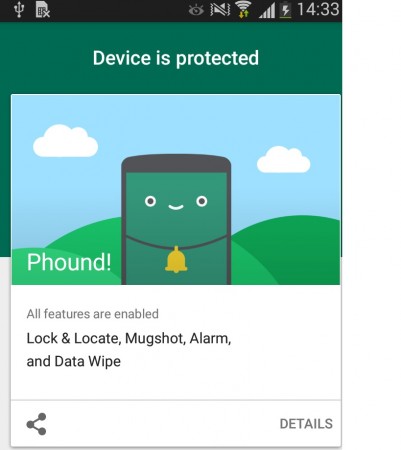 Russian Security application developer Kaspersky has launched a new Android app to protect your Android smartphone and its valuable data. The free-to-download app is called Phound and it claims to help locate your Android device, if stolen, and also keep any valuable information stored on it away from prying eyes.
According to a Kaspersky survey among Internet users, one in every 20 persons lost their smartphones to an act of carelessness or theft. At the same time, 38% of users admitted that their devices contained confidential data that they would definitely not want falling into wrong hands.
Using Phound, the users can control their data remotely through the My Kaspersky website. If a device is lost or stolen, users can quickly block it to prevent unauthorised access, as well as use GPS, GSM or Wi-Fi networks to find the smartphone's exact location on the map. To make searching for the device easier, users can also take pictures with the front camera or flash a message on the device's screen.
If the phone or tablet was lost at home or in the office, it can be found with the help of the alarm feature. The device continues to emit a loud sound until the owner enters a secret code. As the last resort, the owner can use Phound to wipe all personal data from the device and the SD card remotely, including contacts, messages, photos etc, and also perform a hard reset of the device, if required.
"For many users, mobile phones serve as storage for their most valuable and important data – contacts of friends and colleagues, personal messages, private photos and many other things. This means that today's smartphones and tablets need the same security as a bank vault. However, unlike bank vaults, smartphones are small, portable and easily misplaced. That is why we created a solution for our users to prevent their mobile 'vault' from falling into the wrong hands," said Alexey Chikov, senior product manager, Kaspersky Lab.
Kaspersky Phound is now available for download in eight languages from Google Play Store. This app complements the Kaspersky Lab portfolio of free and freemium mobile products for home users, which includes Kaspersky Safe Browser for iOS and Windows phone, Kaspersky QR Scan, Kaspersky Threat Scan, Kaspersky Internet Security for Android and Kaspersky Password Manager for iOS and Android.