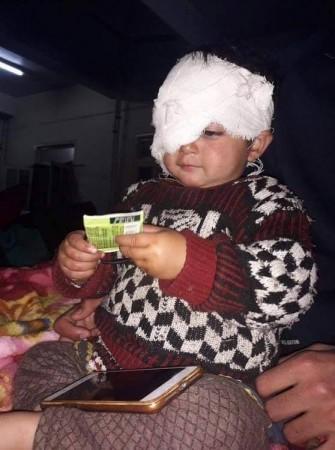 The heart-rending pictures of 18-month-old Hiba, who is said to be the youngest victim of pellet guns in Jammu and Kashmir, has again brought to fore the debate on the use of lethal weapons especially, pellet guns, for crowd control by the security forces.
Hiba's pictures of one eye being pierced by the pellet bullet are going viral on the internet and are attracting the attention of people from all across the world. She is also on the verge of losing eyesight even after the doctors performed a surgery at Shri Maharaja Hari Singh Hospital in Srinagar, according to Greater Kashmir.
Doctors said that they will conduct another operation but the sight of Hiba trying to remove the pads from her eye and telling her mother Masrat to remove it so that she could see has made every attendant at this ward teary-eyed.
Masrat said that her house was filled with tear gas smoke when an encounter was going on in Shopian on Sunday. She took her five-year-old son and daughter Hiba to a safer place when a pellet fired by the security forces hit Hiba in the eye although she tried to cover it with her hand.
Hiba's tragedy is reminiscent of another pellet victim, teenager Insha Mushtaq Malik, who lost her eyesight after pellets hit her eye while she was sitting inside her home in Shopian during the protests that followed the killing of top Hizbul Mujahideen commander Burhan Wani.
Insha went on to clear her 10th exams earlier this year. The use of pellet guns for crowd dispersal began in 2010 uprising during the tenure of the National Conference-led government in the state.
Various humanitarian organisations, including the Amnesty International, have pressed upon the government and security agencies to use less lethal weapons for crowd control. However, the use of pellet guns has gone unabated.
Thousands of people in the valley have been hit by the pellet bullets, with a many them losing eyesight since the bullet affects the most sensitive part of the eye, cornea depending on the velocity and angle from which it is fired.
More than 20 per cent of the affected population is reportedly under the age of 18 years.
Hundreds of pellet victims, mostly blinded, have now come together demanding appropriate allowances from the government, but little has been done to ensure that the costs for their monthly treatments and medicines are covered.
Human rights activists, journalists, doctors have highlighted the pellet tragedy that has inflicted Kashmir since 2010 in various campaigns but nothing has worked so far.