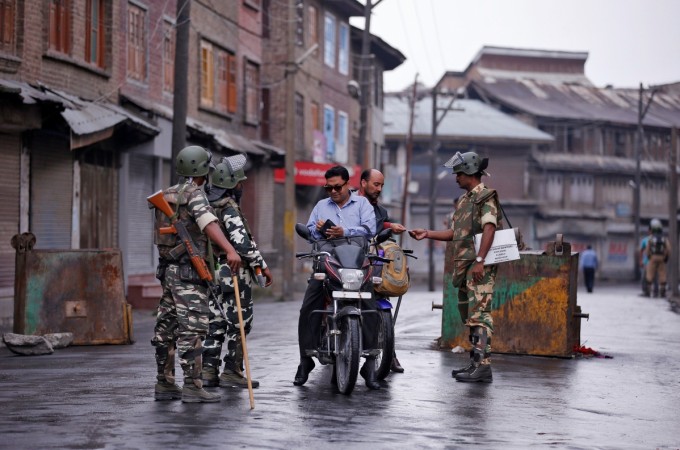 The longest curfew in Kashmir, which lasted for 51 days, will finally be lifted from all parts of the Valley on Monday, except the district of Pulwama and some areas in Srinagar. However, the crackdown against separatists will continue throughout the Valley.
Section 144 of the Criminal Procedure Code, which prohibits assembly of 10 or more people, will remain enforced in the Valley. The police have detained several separatists during night raids.
"Following an improvement in the situation, there will be no restrictions in Kashmir Valley from tomorrow except town Pulwama and the areas falling under the jurisdictions of Police Station M R Gunj and Police Station Nowhatta," a police spokesman was quoted by the Indian Express as saying on Sunday evening.
A government spokesperson told the daily that barring a few incidents of stone-pelting in south Kashmir, the Valley was peaceful the whole of Sunday.
Kashmir has witnessed violent protests since the killing of Hizbul Mujahideen terrorist Burhan Wani in an encounter by security forces on July 8. Over 70 people have been killed and 11,000 injured in clashes between security forces and protesters.
Prime Minister Narendra Modi, in his radio address Mann Ki Batt on Sunday, spoke about the unrest in Kashmir and lashed out at those trying to disrupt peace in the Valley by using children as foot soldiers to further their agenda.
"Those who push small children in the forefront to create unrest in Kashmir will someday have to answer to those innocent children," PM Modi said on Sunday.

"On the minds of 1.25 crore Indians, from a village head to the Prime Minister, if a life is lost in Kashmir, be it of a youth or that of a security person, it is our loss, it is the loss of the nation," he said, adding that the unity showed by all political parties on the Kashmir issue has "delivered a message for the separatists."
Jammu and Kashmir Chief Minister Mehbooba Mufti also suggested an institutional mechanism for dialogue with the Kashmiri citizens in a meeting with the prime minister on Saturday.
Modi's comments come a day after Pakistan Prime Minister Nawaz Sharif appointed 22 parliamentarians as special envoys to highlight the Kashmir issue on the global stage.
Meanwhile, residents in the Valley are doing their bit to help each other with basic supplies, money and medical aid. Groups of youngsters are going door to door to collect money, rice and other food items from people who could afford to part with these, while another group was carrying out a "survey" of households that were in need of basic supplies or were living in hand-to-mouth conditions, reported the daily.
Minister of Home Affairs Rajnath Singh will be leading an all-party delegation to Jammu and Kashmir on Sept. 3 for talks with Kashmiris and to take stock of the present situation.