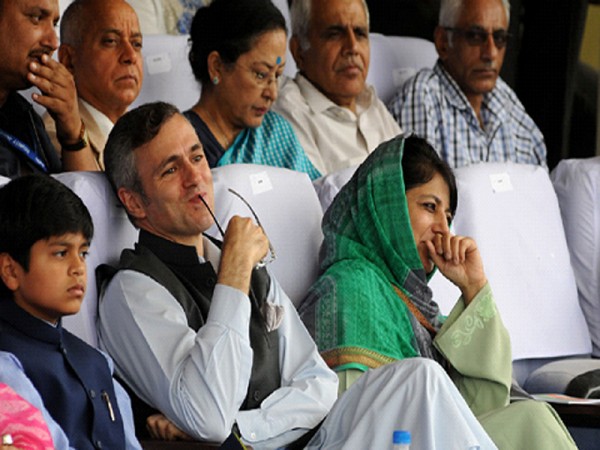 UPDATE: The staunch mainstrream political rivals in Kashmir valley , National Conference and Peoples Democratic Party are likely to form an alliance with Congress to keep BJP outside the power, the top sources in both the parties told the International Business Times, India.
A top source in PDP told IBT, India that the recent statements of Muzaffar Hussain Baig and his allegiance to BJP is infact a reaction to the grand alliance formation among NC, PDP and Congress parties.
"Baig Sahab, infact already knew about the three parties coming together and rushed to support Sajad Lone and BJP, " the source said.
Muhammad Altaf Bukhari, the senior minister in the Mehbooba Mufti cabinet and a top PDP leader has reportedly said that both NC and PDP have agreed to put aside their differences and put "Kashmir" first.
Sources say that the Prime Ministers Office has on the other hand acalled the J&K Chief Secretary and that the centre may ask the Governor, Satya Pal Malik to dissolve the State Legislative Assembly soon.
ORIGINAL STORY:Peoples Democratic Party founder and MP Muzaffar Hussain Baig is the latest political heavyweight to join the Sajad Lone's brigade and has expressed his willingness to join the third front. He has also lashed out at PDP for boycotting the local body polls in the state.
Baig said on Tuesday that any state government led by Kashmir centric parties like National Conference or Peoples Democratic Party would alienate regions such as Jammu and Ladakh. He also said that the PDP blindly followed NC in boycotting the Panchayat and municipal polls and that Mehbooba Mufti never consulted him before taking any such step despite being a phone call away.
Baig who is known for his key role in stitching the PDP-BJP alliance during the tenure of Mufti Mohammad Sayeed's government said that joining Sajad Lone's Peoples Conference will be like homecoming for him and that Lone is like his son. Lone while calling Sajad's late father, Abdul Gani Lone his friend also said that he had drafted the constitution of Peoples Conference party.
Sajad Lone, who has been trying to establish a third front in the state with the support of BJP, was ecstatic over Baig's remarks.
"I am humbled by Muzaffar Beigh Sahib's statement. A person of his stature, experience and intellect can be the defining attribute of the emerging third party @JKPC_ I remember him as my favourite uncle during my childhood. I was his pampered brat," Lone tweeted.
This is seen as an important political development in the valley and a big morale boost for Lone who has also sucessfuly roped in various members of PDP and NC for the formation of the third front in the state.
Lone has BJP's blessings and is often seen meeting Ram Madhav in Srinagar along with other political leaders.
Baig's likely resignation from PDP would not only be a big jolt to the party but may also propel the regional parties such as PDP and NC to come together and join Congress for a grand alliance formation to keep BJP out of power.