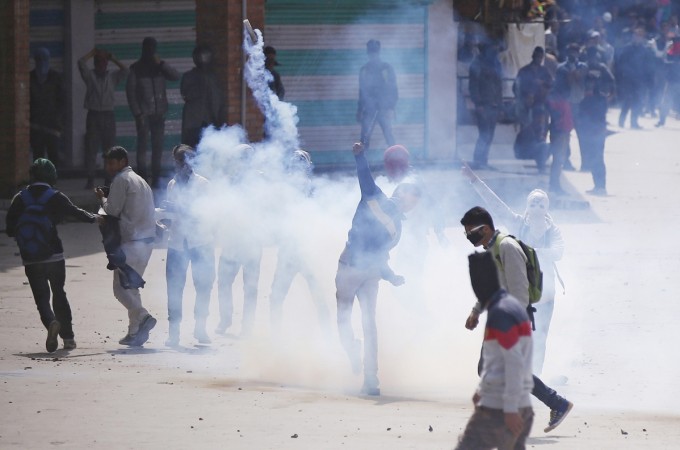 As curfew continues for the 10th straight day in Kashmir valley today, the protesters targeted the legislator of the ruling Peoples Democratic Party (PDP), Mohammad Khalil Band.
PDP's MLA from the Pulwama constituency in South Kashmir was seriously injured when his vehicle was attacked by the protesters while he was on his way to Srinagar, the NDTV reported.
The MLA was heading to Srinagar at 1 a.m when his driver tried to speed to get away from the protesters and the vehicle flipped over leaving the politician seriously injured. He has been taken to an army hospital.
Over the past few days, the protesting crowd has targeted a few PDP leaders as anger grows in valley.
The ruling party, led by the Chief Minister Mehbooba Mufti, has been accused of not reaching out to people amid anger after top Hizbul Mujahideen commander Burhan Wani was killed on July 8 in Anantnag, South Kashmir.
While a PDP activist's house was set on fire by the protesters, an apple orchard owned by another leader was also destroyed.
In Bandipora district of North Kashmir, protesters reportedly tried to storm an Army camp after which the security personnel fired at them. One person was killed during the incident. The death toll in the valley has climbed to 40 as a result of the clashes between protesters and security forces. More than 1500 people are injured.
Mobile phone and internet services continue to remain suspended even as restrictions on cable TV services were lifted on Sunday.
Sources said that the administration has asked the cable TV operators not to air Pakistan TV Channels and an Indian news channel (Times Now), which may incite violence.
Meanwhile, local newspapers have still not been allowed to print.
The valley journalists took out a peaceful sit-in march on Saturday against the media gag and called the government decision a curb on the freedom of expression.