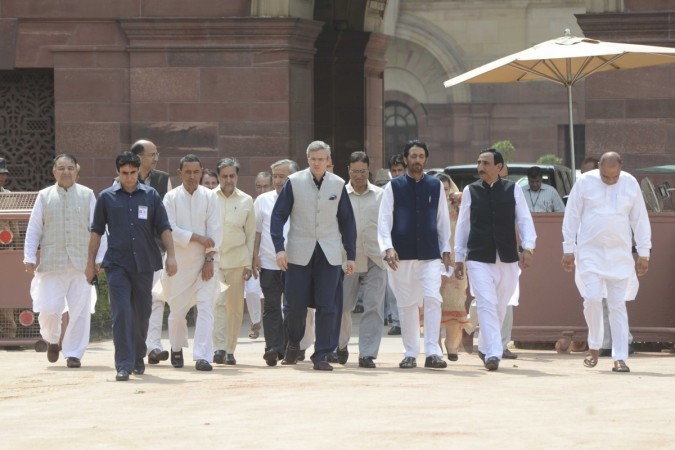 A delegation of Jammu and Kashmir's opposition leaders, led by National Conference leader Omar Abdullah, submitted a memorandum to Prime Minister Narendra Modi on Monday seeking an "immediate" ban on pellet guns in the state. The delegation also urged Modi to initiate dialogue with all stakeholders in Kashmir.
"A continued failure to address the unrest in Kashmir will further deepen the sense of alienation," the delegation told PM Modi, according to the Press Trust of India.
"We have not come with complaints about anybody, we are hopeful that the solution that is arrived at helps all...We have come here so a solution to J&K issue can be found out. We believe this issue must not politicised," Abdullah said.
"Jammu Kashmir jo hai politics ka akhadaa nahi ban-na chahiye (J&K should not become a wrestling ground of politics)," Abdullah added.
The Prime Minister was also informed about the violence in the state since Hizbul Mujahideen commander Burhan Wani was shot dead by security forces in July. Over 60 people have died in clashes with security forces across the Valley.
The delegation had earlier met President Pranab Mukherjee and Congress Vice President Rahul Gandhi.
"We are apprising the national leadership of the unprecedented situation that is prevailing in the Kashmir valley," CPM lawmaker Yusuf Tarigami, who was part of the delegation, told NDTV.
After the delegation met the president, Abdullah got into a war of words with Bharatiya Janata Party General Secretary Ram Madhav. The memorandum reportedly criticises the Centre for allowing the unrest in the region to escalate.
"Talk of political solution is only to score political points. They did nothing to help State bring normalcy. Instead helped spread unrest," Madhav tweeted. In response, Abdullah tweeted, "What is it about us meeting the Hon President that has both @BJP4India & @jkpdp lashing out at us? Is meeting President anti-national?"
Tarigami also emphasised on the need to speak to different stakeholders saying, "You see a section of the people have a different opinion. What's the harm in talking to all the stakeholders? When Vajpayee Sahib was the Prime Minister, he was willing to talk to everyone."
The delegation of opposition leaders said that they would ask the prime minister to "rethink" their move to ignore the separatists and instead include them in the dialogue process.
Delhi: Delegation of J&K opposition parties led by Omar Abdullah meet PM Modi on J&K situation pic.twitter.com/v9lEvK0kRk

— ANI (@ANI_news) August 22, 2016
We have offered you solutions both while in power & out of it but you are deaf to what you don't like hearing!" Abdullah had tweeted on Saturday.

You have your IB, MI, RAW, CID. Stop tweeting about us spreading unrest & go use your evidence to file sedition case https://t.co/hl5kFbNGCZ

— Omar Abdullah (@abdullah_omar) August 20, 2016
The Centre had said that while security forces have been told to use "maximum restraint" there will be no compromise on national integrity.