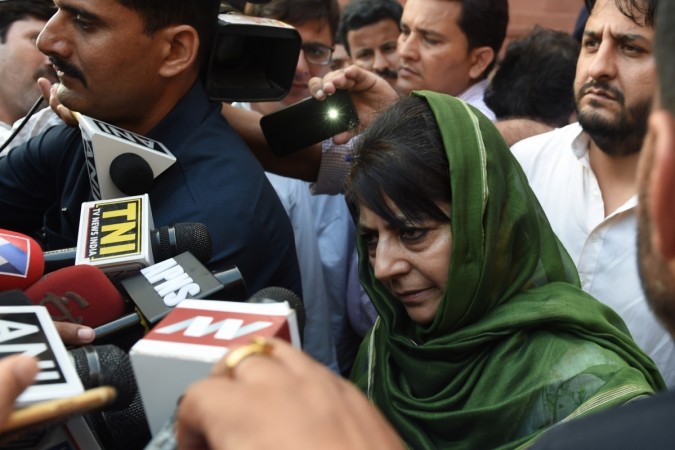 Addressing the ongoing strife in Kashmir, Chief Minister Mehbooba Mufti said on Sunday that all stakeholders including separatists should be engaged to find a way of restoring peace.
However, Mufti alluded to the need to create a "conducive atmosphere" for a dialogue to take place while emphasising the need to work out a better format of dialogue than in the past when the central governments had nominated interlocutors and set up working groups. She also added that those abetting violence and provoking youth to "gherao and attack" security camps should desist.
"What I am concerned about and told the Prime Minister is that people have lost faith in dialogue. So first dialogue as an institution has to be restored…We need to put people who have very credible backgrounds and can communicate with the other side…Today there is no alternative to dialogue but for dialogue (to happen), you need to have conducive atmosphere." Mehbooba was quoted saying to PTI amid the unrest which has been going on in Kashmir for the last 51 days resulting in the killing of 70 people.
Mehbooba also added that India needs to emulate the "very serious effort" made by former Prime Minister Atal Bihari Vajpayee in creating dialogue both on external front with Pakistan and on internal front with Hurriyat and Hizbul Mujahideen militant outfit. Mehbooba concluded that the previous UPA government as well as the NC-Congress government in the state "could not pick up the threads where Vajpayee had left and then there was vacuum and disillusionment."
Emphasising that "whosoever wants a solution to the Kashmir problem should understand that solution is not going to come in days or months", she said "do we make life so miserable for all that time the solution comes? Do we want our boys to get killed? Do we want them to do something which is going to have retaliation and injuries? That is something for everyone to think."
When the Chief Minister was asked specifically if Hurriyat would be approached for dialogue she said that dialogue should be held with "everybody who wants peaceful resolution and is ready to contribute in containing the situation."
In a message to Hurriyat and other separatist groups, she said, "If they want to save young and precious lives, they need to tell them the truth that these killings, deaths are not going to solve the problem but these further complicate the issue. It also hijacks the basic issue and gives it a tinge of violence. The whole world is fed up with violence. Nobody is ready to listen to the voice of violence. So whatever can be resolved peacefully, should be resolved peacefully."
Mehbooba also asked the Hurriyat leaders to desist activities that involve provoking children to indulge in violence. "They (Hurriyat leaders) should feel about these young boys like we feel about our own children. Because if we let them go and attack camps (of security forces) and make them emotional that this is going to resolve the Kashmir problem, we are not being honest. We are misleading them and putting them in a very dangerous spot," she underlined.
Referring to last week's call by the Hurriyat, where they asked people to 'gherao' an army cantonment in Badami Bagh in Srinagar yesterday, she said, "It is not done. If you are asking those young boys to go near these camps or ambush people, what is going to be the result?"
Asked whether these provocative actions are being deliberately undertaken, the Chief Minister said, "That is something that should not happen because every attack on security forces' establishment means somebody is injured even if there is maximum restraint" by security personnel.
"They (Hurriyat leaders) should use their influence, whatever they have, to see there are no casualties," she said.