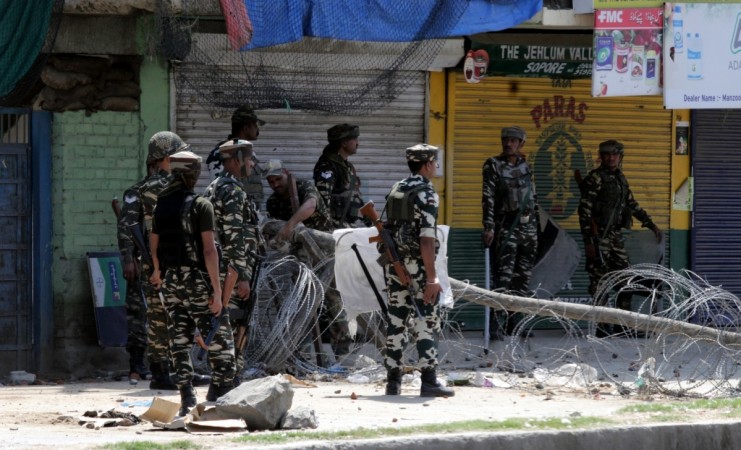 Syed Salahudeen, head of banned terror outfit Hizb-ul-Mujahideen, threatened India with a nuclear attack on Monday over the Kashmir issue. He also said that the Kashmiri people were left with no choice but to begin jihad against India.
Salahudeen had recently demanded that Union Home Minister Rajnath Singh not be allowed to visit Pakistan. Singh had gone to Islamabad to attend the SAARC meeting of home/interior ministers of member countries. The leader of the terror outfit had also been a part of a march towards Wagah border in protest against the conflict in Kashmir.
"Pakistan is duty bound, morally bound, politically bound and constitutionally bound to provide concrete, substantial support to the ongoing freedom struggle on the territory of Kashmir. And, if Pakistan provides this support, there is a great chance of a nuclear war between the two powers," he added.
He said that he can predict a fourth war between India and Pakistan over Kashmir. Three have already been fought, he said referring to Kargil War in 1999, the 1971 and 1965 wars.
Kashmiris are no longer willing to compromise, and they have no other option but to begin an armed struggle and jihad, he said.
Whether the world supports them or not; whether Pakistan stands by them or not; whether the United Nations performs its duty or not; they have taken a pledge to fight up to the last drop of their blood," he added.

If God forbid, the international community continues to cold shoulder and ignore this issue and Pakistan's efforts are not fruitful, and India does not stop its atrocities, a big incident can occur. Our base camp in liberated Azad Kashmir and the Kashmiris from this side will announce the trampling of the bloody Line (of Control)," he said.

Bleeding Kashmiris will come from that side, these Kashmiris will go from this side, and God willing a decision will take place on the bloody line," he added.
He blamed the international community for not standing by its resolutions and the Narendra Modi- government for not giving any "leeway."
India has maintained that the issue in Kashmir is domestic and it will not entertain outside interference in the matter.
After the martyrdom of Burhan Muzaffar Wani, why did the entire state come out on to the streets against India? Actually Burhan is not the name of a person; it is the name of an ideology, a goal, the name of a dedication and a sentiment. At this point in time, the Indian troops are faced with Burhan in every street and lane. Every old person is Burhan, every child is Burhan, every young man is Burhan and every mother, daughter and sister is Burhan," he added.
Kashmir has been boiling with tension ever since Wani was killed on July 8. More than 50 people have died and several were injured, with some even losing their eyesight.