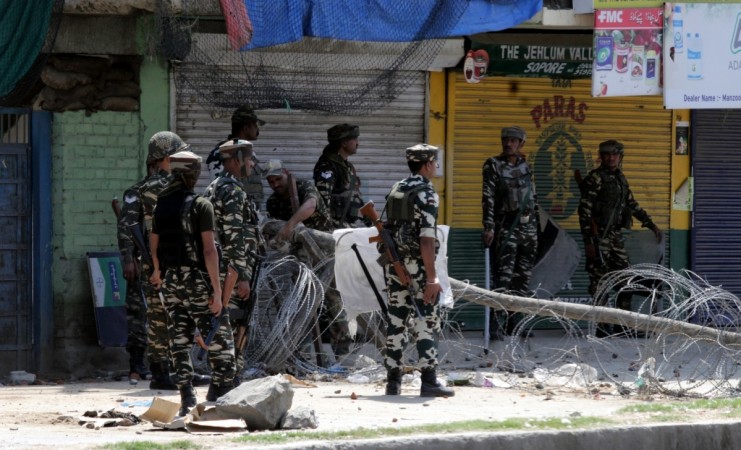 The Central government is mulling to replace pellet guns with chilli-filled Pelargonic Acid Vanillyl Amide (PAVA) grenades to control the ongoing unrest in Jammu and Kashmir. The Central Reserve Police Force (CRPF), however, is not satisfied with the replacement suggestion.
The use of pellet guns by security forces to quell protesters has led to severe injuries in the Valley. The Jammu and Kashmir Police had also come under widespread criticism for firing at people after which they resorted to pellet guns as a 'non-lethal weapon' to disperse the protesters. Pellet guns can cause permanent eye damage and loss of vision.
Union Home Minister Rajnath Singh, during his visit to Srinagar on Thursday, had ensured that the Centre has decided to find an alternative for pellet guns. "When I came here last time I had said that I've set up an expert committee, which will submit its report in two months. I want to inform you that one month has passed and within three-four days expert committee will submit its report. Within a few days we will give alternative to the pellet gun," Singh said.
The committee has reportedly confirmed chilli-filled PAVA grenades. Sources said that simulation tests of the grenade shells have been conducted and it has been found to be safe. The PAVA grenades were under trial at the CSIR Indian Institute of Toxicology Research in Lucknow for more than a year. PAVA grenades have the potential to irritate and temporarily paralyse humans and is categorised as "above peak".
The committee has asked the tear smoke unit (TSU) of the Border Security Force in Gwalior to "immediately" produce these shells in bulk with a first batch of around 50,000 rounds, sources close to the committee said. The panel said PAVA is "biosafe, better than chilli grenades or tear smoke shells and can also be used in combination with stun and tear shells."
The CRPF, however, is not keen on softer alternatives to pellet guns. Last week, CRPF had informed the J&K High Court that if pellet guns were banned they would have to resort to firing rounds at the protesters in extreme cases which could lead to more casualties.
In case, this (pellet gun) is withdrawn from the options available with the CRPF, CRPF personnel would have no recourse in extreme situations but to open fire with rifles, which may cause more fatalities," the CRPF said in an affidavit had said.