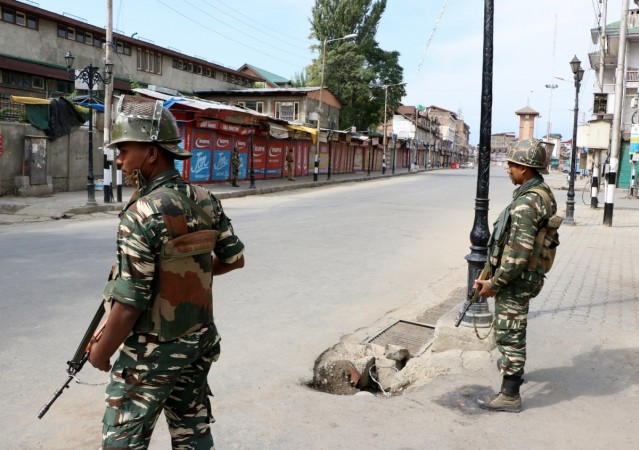 A 30-year-old college lecturer was allegedly beaten to death by Indian Army personnel in Jammu and Kashmir's Pulwama district on Wednesday. The Indian Army has ordered a probe into the death.
The residents of Sharshali village in Khrew claimed that Army personnel from the nearby 50 RR camp barged into their homes at around 10.30 pm. The locals were then allegedly beaten up for hours and many youths were detained.
Shabir Ahmed Mangoo, a lecturer with Amar Singh College in Srinagar, was among those detained.
"He (Shabir) was brought dead at the hospital," Block Medical Officer (BMO) Pampore, Dr Saba, told The Indian Express. "He was brought to hospital by police and he had external injuries on his face and chest."
Jammu and Kashmir Police have now registered an FIR against unknown Army personnel. The injured were later taken to Srinagar for treatment.
"That night will haunt us till our death," an injured admitted at SMHS Hospital was quoted as saying by the Economic Times.
Congress leader Mani Shankar Aiyar, activist Shabnam Hashmi and columnist Prem Shankar Jha tried to visit the injured at SMHS hospital. However, they were stopped from entering by people who allegedly chanted anti-India slogans.
He was just reading. They took him away from his room and slaughtered him. He was innocent. He never killed an insect," Yasmeena, Mangoo's wife, told the Kashmir Reader. The English lecturer is survived by his wife, 15-month-old child and his father.
Union Home Minister Rajnath Singh had earlier said that forces were told to use "maximum restraint." The top leadership of the central government, including Prime Minister Narendra Modi and Home Minister Rajnath Singh, has repeatedly said that Kashmir is an integral part of India, but no compromises will be made in terms of security.
The conflict in Kashmir began after Hizbul Mujahideen leader Burhan Wani was killed by the Army on July 8. At least 66 people, including Mangoo, have died in Kashmir since the beginning of the unrest.